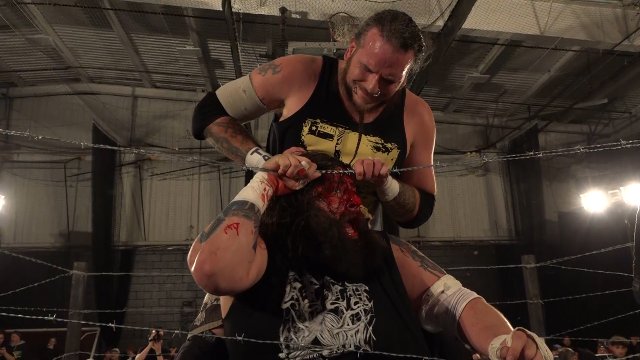 Combat Zone Wrestling's (CZW) "Best of the Best" tournament has seen the crowning of a new CZW World Champion (Rich Swann), adding higher stakes to the historically illustrious tournament. In years past, wrestlers such as Adam Cole, Jonathan Gresham, Sami Callihan, and "Speedball" Mike Bailey have emerged victorious from the tournament.
CZW's "Best of the Best" is a unique tournament-style format that features four first-round, triple-threat matches, and the winners advance until a winner is determined. This year, the event will be live-streamed on the Premier Streaming Network (PSN). PSN is available on a full suite of platforms and devices including Web, iOS and Android mobile web and desktop, Chromecast, Android TV, Amazon Fire TV, Apple TV, Roku, and many Smart TVs.
CZW owner David Markland is excited about the partnership with PSN and what it could mean for the future of CZW and PSN.
"You're going to start seeing CZW on PSN," said Markland. "They're a young company and they're making a lot of buzz. They're led by Paul Owen. We are going to be one of the featured companies there. Freddie Prinze Jr. is now a part of the team as one of the owners. I think in the next couple of years, a lot of people are going to get on board with Premier's mission and goals are. And I think that's going to be something really special since streaming is the future."
Owen, President of PSN, has extensive experience with streaming platforms. Owens previously worked as the Digital Content Manager for the Ultimate Fighting Championship (UFC), Content Curation Editor for World Wrestling Entertainment's WWE Network, and as a Digital Director for FITE TV.
This year's edition of the 'Best of The Best' tournament is the 19th year of the prestigious tournament, a tournament that originally started as a junior heavyweight showcase, created under previous owner John Zandig, to showcase some of the best junior heavyweights in the world.
Over the years, many fan-favorite wrestlers have come through CZW. Jon Moxley, Joe Gacy, John Silver, Drew Gulak, and many others have all competed in CZW.
This year's tournament will feature names that most wrestling fans know but will also include a crop of talented wrestlers that Markland feels are the future of the wrestling industry. Markland is excited for fans to see talent-rich field that will compete in the tournament and the future of the promotion.
"I believe many of this group that you'll see are the future of the industry," said Markland. "Whether it's in CZW or the independent scene, I believe you'll be watching the guys on your TV screens in some version. Best of the Best is where you can make your name.
The 13-competitor field features talent from across the country. Markland highlighted some of the names that will be participating in the tournament this year. Typically, the field is 12 competitors, but veteran Desean Pratt and current CZW tag team champion (CMD with Boom Harden) has a first-round bye and will be able to select the semi-final match he'd like to compete in.
"Guys like Fred Yehi, who's a very well-known master technician, probably one of the best technical wrestlers today," said Markland. "Alex Kane is probably best known for his time in MLW. O'Shay Edwards is tearing up the scene since leaving Ring of Honor. He's 6'7" and he can just go. Then you have guys like Myron Reed, who really got his start and broke out in CZW, when he was involved with the Rascalz, before you got to see these guys on TV. Then you have the next generation of guys like Eran Ashe, and for a guy his size, he just can go. He can do things that you would not believe a man his size can do. Griffin McCoy, this kid went 30 minutes with KENTA, and stood toe-to-toe and just tears the house down every time he's out there. Then you have a lot of other newcomers. You have Jaden Newman coming up from the south, whose name has been out there a lot. Kidd Bandit, out on the west coast, is a very special unique athlete. Ken Broadway out of New York, has been in CZW before and a House of Glory (HOG) guy, he's the guy there and is the future. I think people will start to see that soon."
Another aspect of this year's tournament that Markland is happy with is the field's diversity of participants.
"We have a very ethnically eclectic group," said Markland. "We have people from different backgrounds, different walks of life, which is something that I'm really proud of. It's not something that we strategically set out to do, but it happened that way. Comparatively to the industry, it's not something that has happened often."
Markland says that many of the competitors realize what this opportunity can mean going forward.
"They know that we're rebuilding the company," said Markland. "They know what this tournament means. Many of them got into the business because they watch guys like Trent Acid, Adam Cole, they watched guys Sami Callihan, Jonathan Gresham, Drake Younger and Mike Quakenbush and the list goes on. They've seen these guys that inspired them so to them it means a great deal."
Markland says that CZW is in a much different place than it was prior to the COVID pandemic. The roster has changed since that time, and it has led to some development within the promotion as a whole.
"This year, the company is in a much different direction than it's been in the past," said Markland. "COVID did a number on the company. Most of the talent we had prior to that, you're probably watching them on TV weekly now."
Markland says that the COVID pandemic changed a lot in the wrestling business, including sparking changes for CZW.
"I think a lot of people think that we are shying away from the hardcore stuff," said Markland. "I just think the hardcore stuff is separate now. It needs to be done on a limited basis or it needs to be special. We still will have Tournament of Death; we plan to hold Cage of Death."
Markland feels that the hunger of the CZW roster will help usher in a new era for CZW.
"They're just so hungry," said Markland. "We want to go out there and tear it up. It's one of the things we've really focused on in our training facility. You're going to see these guys go and there and want it. They're going to show you that they want it."
Markland says that CZW will look to develop more storytelling and storylines that make the payoff of hardcore stipulations mean more.
"I've been around wrestling for going on 25 years," said Markland. "CZW has influenced this industry unlike anyone else. After going through COVID, I had the opportunity to do things a different way. Anybody can do a death match. I've trained people on how to do it and teach people properly. Building a story will make people care more about the match. Wrestling was built on storytelling and characters. I want to get back to storytelling. I want to build up to something. I wanted us to get back to the storytelling aspect of wrestling. I want people to have a great experience whether they're watching us in-person or watching from home. That's what we're working towards."
For more on CZW visit: https://www.czwrestling.com/