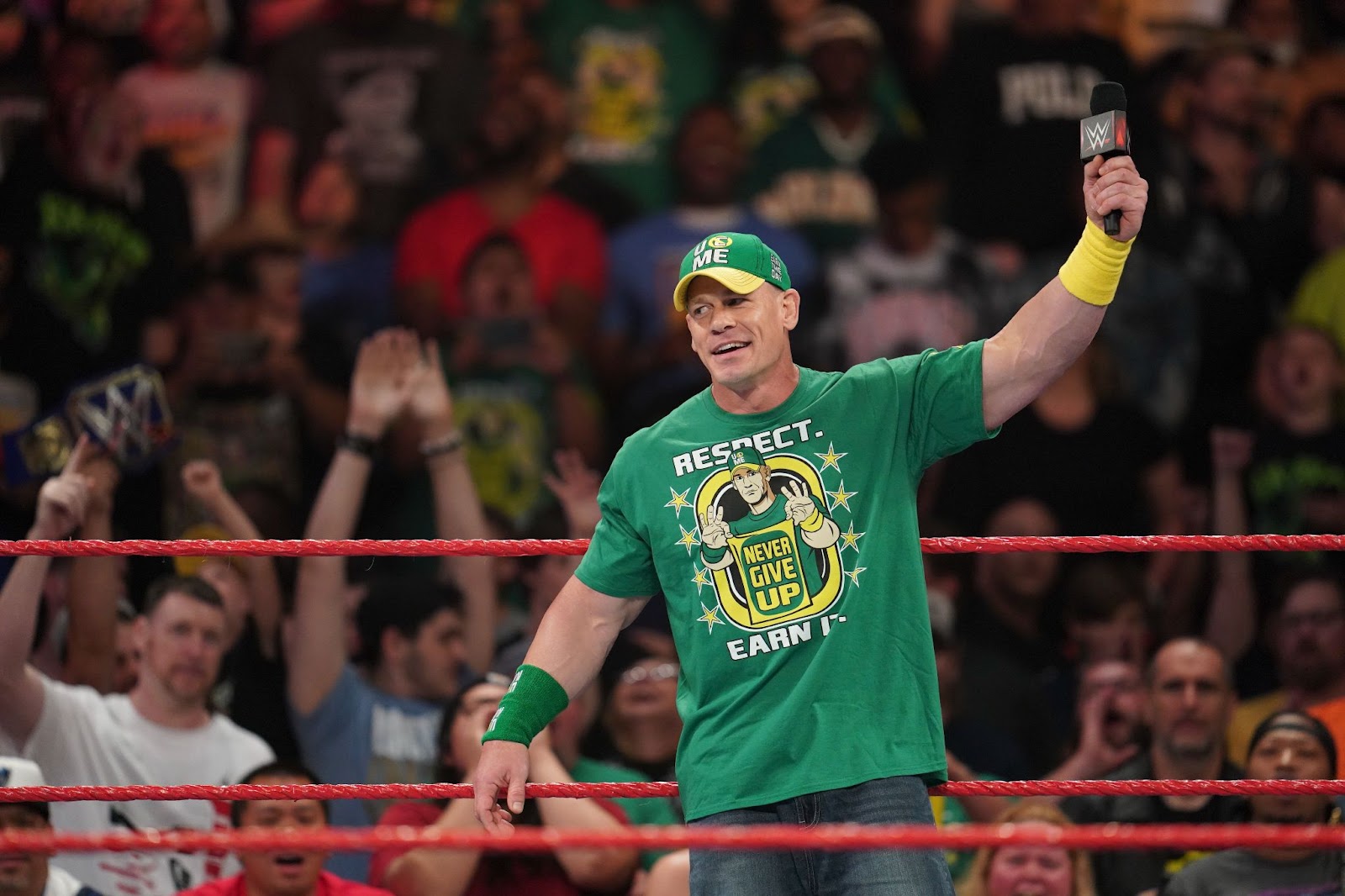 John Cena is undoubtedly one of the most iconic WWE Superstars of all time. But why?
Following his surprise appearance at The O2 London during WWE Money in the Bank, Cena will be returning to SmackDown on Friday 1st September at the Giant Center in Hershey, Pennsylvania and appearing at WWE Superstar Spectacle at the Gachibowli Indoor Stadium in Hyderabad, India, on Friday 8th September.  Cena will also appear on SmackDown for seven consecutive weeks, beginning Friday 15th September through to the end of October.
John Cena has proven himself to be the G.O.A.T. in a myriad of ways, from his big screen moments to his philanthropy. Here are six reasons why the WWE Universe keep wanting more:
His character: Cena's personality and strong connection with his audience, especially when it comes to his younger fans, cemented his status as a WWE legend long ago. His signature catchphrases – "Never Give Up and "You Can't See Me" – have transcended the WWE Universe and permeated mainstream global culture. His ability to create exciting matches, promos and voiceovers are what has made him one of the most loved WWE Superstars in history.
His trophy cabinet: During his expansive WWE career, Cena has become a 16-time WWE Champion – a record he currently shares with two-time WWE Hall of Famer, Ric Flair. During his time on the main WWE roster, Cena has feuded with other big name WWE Superstars including Randy Orton, Edge, Shawn Michaels, and The Rock.
His good heart: Cena's philanthropic efforts, including his work with the Make-A-Wish Foundation, have earned him a great deal of respect and admiration. Cena holds the current Guinness World Record for granting the most Make-a-Wish wishes in history – 650 and counting – which The Guinness World Records site hailed as a "herculean" effort.
His following: Almost 20 million people follow John Cena on Instagram, where his random approach to posting often leaves fans confused, but intrigued. Over on X, Cena likes to wax philosophical, with 14 million followers logging on for his daily nuggets of wisdom. "The real challenge often starts after the finish line", Cena posted last week.
His acting skills: Cena's mainstream popularity extends well beyond the WWE Universe. John Cena has starred in blockbuster Hollywood movies including the "Fast & Furious" franchise, "Trainwreck," "Bumblebee" and of course, 2023's hottest Hollywood release, "Barbie" – where he played Mermaid Ken, alongside Mermaid Barbie, Dua Lipa.
His gravitas: Many fellow wrestlers and industry professionals have spoken highly of Cena's professionalism, leadership, and willingness to help others succeed in the business. Click here to see Becky Lynch, Seth Rollins, Cody Rhodes, Bianca Belair, Kevin Owens and The Miz share the lessons they've learned from the legendary John Cena.
John Cena will make his triumphant return to SmackDown in Hershey, Pennsylvania this week, and in India just a week later. Tune in on TNT Sports