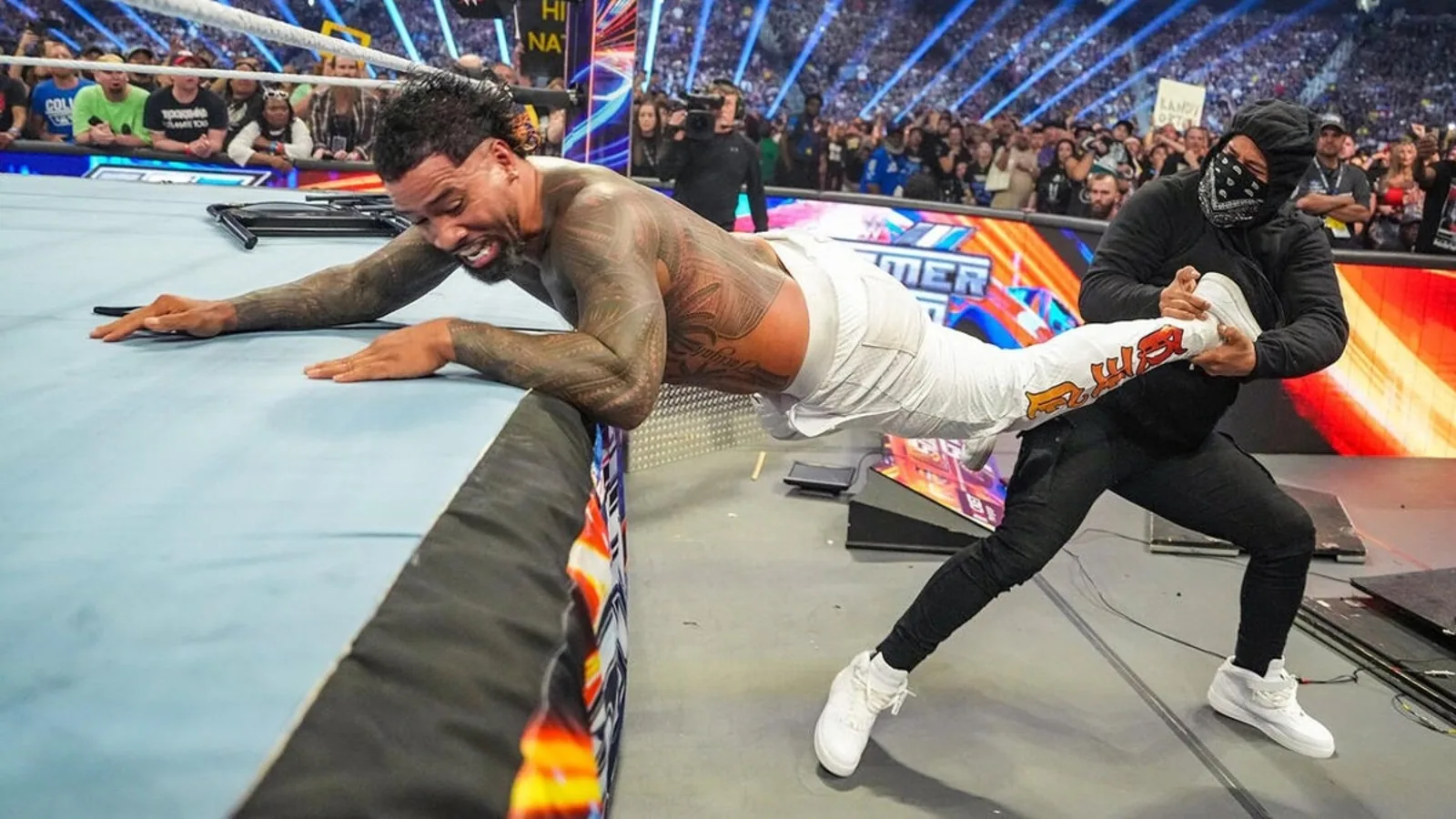 When referee Chad Patton's hand crashed down to the canvas for a third time, the chants rang out around Detroit's Ford Field. "F**k you, Jimmy" came the cry from the crowd of over 50,000 in the Motor City. The response on social media wasn't much more positive, either.
Jimmy Uso had just cost his twin brother Jay the chance to become the Undisputed WWE Universal Champion. Not to mention the Tribal Chief of the famed Anoa'i family and the generations of Hall of Fame lineage that come along with it. Having teamed together for well over a decade, amassing eight tag title reigns and a mountain of plaudits and adulation in the process, The Usos have long been recognised as one of the greatest double acts in wrestling history.
The decision to turn Jimmy heel, so soon after he had superkicked his way out of his cousin Roman's overbearing control as leader of The Bloodline, was one that was not met with the same deliriously enthusiastic reviews that so much of this three year Samoan family odyssey has been.
In fact, it was seen as a creative swerve too far. Another interference laden Roman victory was one thing, but to split up The Usos? Especially so soon after they'd finally rebelled against the Head of the Table's autocratic chiefdom? There were many inside Ford Field that night and even more watching at home and online, who were ready for Main Event Jay to strip the former Big Dog of his big gold belt. Much like there had been when Drew McIntyre, Sami Zayn and Cody Rhodes had threatened Reigns' position at the top of the mountain over the past 12 months.
However, with each of those aforementioned title defences, the decision to stick with Reigns as the top dog was eventually viewed as the correct one. TV ratings, live show attendances and merchandise sales reflect this massively. Staying the course with the former Shield member proving, with every twist and turn, to be best for business.
But even with Triple H and co's track record for getting it right with Roman and The Bloodline, Jimmy costing Jey World Title immortality just seemed desperate. It felt, for the first time, that The Bloodline energy was beginning to wane. As if they were now treading water while they wondered what to do next. Were they waiting for Solo Sikoa to be ready to become the one? Or were they buying time for an eventual return match with Cody at WrestleMania 40 next April?
What followed next delivered more questions, but also, critically, added a whole onion's worth of layers of intrigue.
Crucially, Jimmy revealed to Roman on the following week's post-SummerSlam SmackDown that what he did wasn't for Roman. It was to prevent his brother becoming like his cousin. This was important as Jimmy siding with Roman once again would have felt like the previous two months, in which Jimmy had forced The Usos kicking and screaming out of The Bloodline to rapturous applause in the arenas and on social media, had been for nothing. Jey's seismic pinfall victory over Roman at Money In The Bank in The Bloodline Civil War tag team main event – Reigns' first pinfall loss in almost four years – would have felt hollow.
But now, Jimmy was staying the course with the mistrust of his cousin, and ultimately remaining aligned as a heel because, let's face it, how are you going to cost Jey Uso the opportunity to end Roman Reigns' three-year-long Undisputed Universal Title reign and come out the other side as a hero?
The crucial next step was keeping Jimmy and Jey apart. There has to be a match between the pair off the back of what happened at SummerSlam, but a first match between The Uso brothers couldn't merely be rushed onto a Payback or a Fastlane. In fact, a previous interview with Ariel Helwani for BT Sport with the brothers Uce revealed that their dream match has never been of the tag variety, but rather a WrestleMania match against one another.
Aw shit. We're actually getting Jimmy Uso vs Jey Uso at Wrestlemania, that's the dream match they both said they wanted. #summerslam pic.twitter.com/bUILjs5Dah

— Kevin Thang (@Skip2MyJays) August 6, 2023
Then, on the same post-SummerSlam SmackDown where Jimmy laid out his reasons for betraying his brother, speaking of love and protection and avoiding the 'corruption' of their 'asshole' cousin Roman, Jey had enough. Down went Roman and Solo and finally, beckoning his brother back down the aisle, 37 years of pain was superkicked square into Jimmy's jaw. Barking into the camera as he hopped the guardrail to exit the arena, Jey told the millions watching at home that he was "out of The Bloodline, out of SmackDown and out of WWE".
Fast forward a little over three weeks and step forward Cody Rhodes. A man who Jey Uso did his best to prevent dethroning Roman Reigns in the main event of WrestleMania 39. Using his 'political stroke' The American Nightmare revealed during his appearance on The Grayson Waller Effect at Payback last week that the eight-time tag team champion had been recruited as the newest member of the Monday Night Raw roster.
Just over a month removed from SummerSlam, the dust has settled and a path to WrestleMania appears to have been cleared. While Roman rests up and awaits whoever his challenger may be for WWE's next jaunt to Saudi Arabia at the beginning of November, Jimmy can harness as much heel heat and momentum as possible on the blue brand, while Jey makes a name for himself as a solo star on Monday nights. Their stories, while currently seperate, are still inextricably linked.
It's just getting to the final destination in the first week of April, 2024 that is the journey that must be navigated with tremendous care in the meantime.
Maintaining the audience's attention in The Bloodline has been a long running masterstroke in creative ingenuity which had been all too rare in WWE's programming pre-Triple H assuming creative control in the summer of 2022. Many believed the culmination of Sami Zayn's arc with the Samoan family would lead to a simmering in interest levels after Zayn and Kevin Owens brought a dramatic end to The Usos record breaking tag title reign in the main event of night one of WrestleMania 39.
Instead, it is The Usos themselves who have taken the ball and ran with it for the past five months. Both minted as bona fide main event superstars, the 37-year-old twins have acted accordingly, dropping unmissable promo after unmissable match after unmissable moment. Then the main event of SummerSlam arrived and a fork in the road appeared.
That Jey's main event outing with Roman ended up as a meandering, near 40-minute endurance test was unfortunate. Reigns' main event style has long been a methodical one since his 2020 heel turn, but has often reaped enormous dividends with some unforgettable pay-offs, as well as several divisive ones. SummerSlam's curtain closing bout certainly fell in the latter category. Of course, Reigns suffering a pretty significant back injury early in the match didn't help matters, making the clash feel like it was more of a slow burning conduit to the final few minutes.
This may also be why a lot of people were unsold on the Jimmy turn initially. Coming off the back of a relatively weak match which played into the most negative tropes of Roman's otherwise historically great run, fans maybe thought The Bloodline storyline was circling. Off goes Roman for another few months, Jimmy and Jey are left to superkick each other while looking to be constantly on the verge of a nervous breakdown with Solo casually taking turns destroying both of them in the meantime as Paul Heyman chuckles away in the background.
And it is how the remainder of Roman's reign is treated that is also immensely significant to all of this. A Saudi defence in November must almost be a certainty, given the Tribal Chief will have gone three months without a defence by that point. Another Bloodline based bout, this time with Jimmy, could be on the cards, perhaps with Jey exacting a measure of revenge by costing his brother his opportunity at taking the top seat at the table. Although given how SummerSlam played out, perhaps that is far too predictable.
There is also the emergence of Solo that cannot be understated. Tensions have been teased between the most junior member of The Bloodline and Reigns in recent months. His development in the ring this year cannot be overlooked either and, with Paul Heyman as a potential mouthpiece in a post-Roman world, you could have yet another Anoi'a family megastar on your hands.
Whoever is next to step up, it is imperitave that new life is breathed into Reigns' run as The Guy. After overturning Cody Rhodes at WrestleMania 39, much was made of whether Roman would reach the 1,000 day milestone as champion. He did so without another defence in between. It was a period of time that felt like an enormous missed opportunity. Adam Pearce booking Roman into several defences, closer and closer to the 1,000 day mark could have inserted a genuine sense of jeopardy into proceedings and helped cement a few more stars as being main event players at the same time by rubbing shoulders with The Bloodline.
The likes of AJ Styles, Bobby Lashley and LA Knight could all serve as believable and entertaining challengers to Reigns between now and WrestleMania. The Head of The Table has already had certified bangers with The Phenomenal One and The All Mighty in the past, so reruns of these a few years on would be a welcome reprieve from scrapping with his various cousins. All the while, Sikoa's influence growing and becoming more undeniable sets him up for a gigantic solo run when Roman finally drops the title and needs someone to blame. The second coming of the Samoan Savage, who has been running interference since his main roster debut at Clash At The Castle in September 2022, would be the most likely target, but one who could easily break Roman, take his Wise Man and send him packing for most of 2024.
As for who finally wrestles the belt from Samoan Joe, Adam Pearce has revealed SmackDown will be getting 'trade compensation' for Jey Uso's Raw move. Could it be compensation that proves to be a Nightmare for Reigns?
Adam Pearce tells Jey Uso that SmackDown is getting trade compensation for his move.#WWERAW pic.twitter.com/u59W19jXzD

— Fightful Wrestling (@Fightful) September 5, 2023
So that leaves us where we started. With Jimmy and Jey. Two twins torn apart. Week-to-week they can get into shenanigans with The Judgement Day or Imperium or the LWO or a Brawling Brute or three, but each interbrand Premium Live Event throws up a whole host of possibilities for advancing the brotherly beef between the two, which surely culminates at WrestleMania 40 in Philadelphia. What is it they call it? The city of brotherly love? Seems quite apt for the final scene of a sibling rivalry becoming a sibling reunion.
Alongside their younger Uce, unshackled once-and-for-all from the oppressive reign of their cousin, The Uso brothers could be set for a 2024 that eclipses their 2023. The next seven months could not be more make-or-break if they tried.