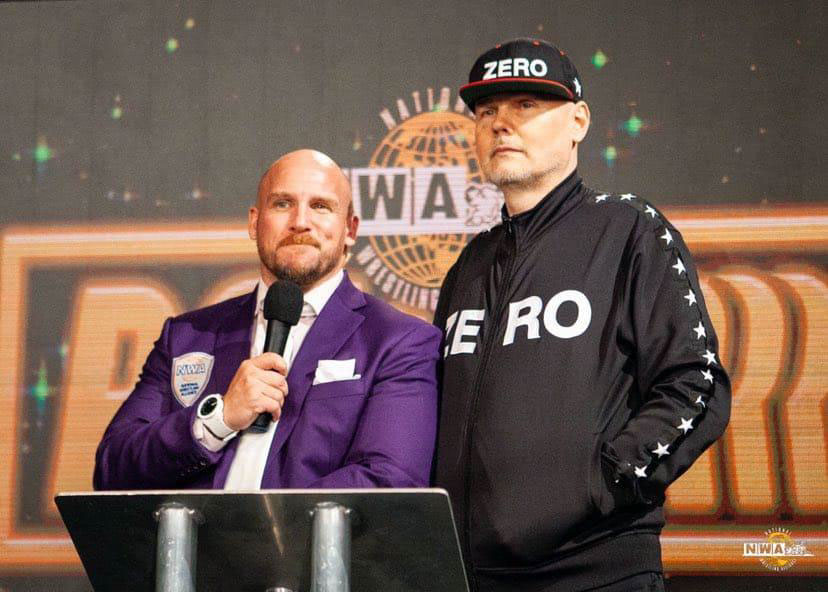 By Dom Smith
Dom Smith sits down with Billy Corgan to discuss his legacy in wrestling and the overall success of NWA in 2022.
Billy Corgan, who also goes by his full name of William Patrick Corgan as an onscreen authority figure in the NWA's weekly TV show Power, is a lifelong wrestling fan as well as the frontman of the legendary rock band The Smashing Pumpkins, among others.
The NWA boss's passion for pro-wrestling saw him get involved in TNA before leaving and purchasing the iconic National Wrestling Alliance. Since then, Billy has repurposed the company into a wrestling promotion that mirrors the style of the territory days, but with a modern twist.
While the NWA frequently runs shows at historic wrestling venues with large crowds, the weekly episodes of Power are a callback to the classic studio wrestling shows from the 1970s and 1980s. The goal is to appeal to the old school 'rasslin fans, who miss that era of the sport and perhaps don't get their fix from modern WWE or AEW.
Since Billy bought the company, the NWA has gone from strength-to-strength under his watch. Billy's wrestlers and staff have all been very complimentary of him when Soundsphere has interviewed them, Kamille and Thom Latimer especially.
We asked Billy where his empathy comes from and if it's connected to his work in the music business. He said, "I feel like a talent first and an owner/operator second. Many people over the years have encouraged me not to take the talent position but I think I have a different sensitivity to it due to my experiences."
He continued, "I've always straddled the line between performer and manager, so I feel very comfortable working back and forth between those roles. In a lot of wrestling culture, you don't really know where you stand and I've always found that to work against me. So I try in the NWA culture to be very transparent, say what I'm looking for and try to give them what they need to perform at their best."
Team NWA
We then asked Billy how he defines success as a wrestling promoter and as a musician, and if there's any overlap between these two worlds. He told us, "I like to define success as everyone on the team has to win. So if the NWA wins, you win, and if you win, the NWA wins."
"I think that comes back from all my years of being in bands. In my band [The Smashing Pumpkins] there's a lot of focus on myself and I understand why, but if my team, in this case my bandmates don't believe in my vision or what I'm trying to accomplish, that undermines not just the success of the team, but myself."
Billy continued, "I think it's a similar dynamic where it's letting talents know that we either win together or we lose together. I think that creates a spirit of camaraderie. If you can set team goals, everyone takes some pride in ownership."
We spoke to Billy about the storied legacy of the NWA, along with his own legacy as a celebrated rock star, and if Billy ever considers the legacy of the company under his ownership.
He said, "I think we stand on the shoulders of giants. The whole business does not just the NWA. I'm a person who believes that if you don't deeply respect what has come before, not only do you not retain the lessons that were learned, but you don't get the true experience of accomplishing something when you do it in the business that you're in.
"I have great respect for the people that came before me in rock and roll and I've had to learn great respect for the people who came before us in professional wrestling. The other side of the coin is, a wrestling fan in 2022 is usually focused on what's happening at that particular moment.
'It's a balance point, I would love for people to come to a show because of the historical place the NWA has, but it doesn't work like that. It's who's on the card, where is the show you're putting on, and what is the culture there."
As Billy is a wrestling fan as well as a promoter, and musician, we asked him about how he manages all of his responsibilities, and if he has any self-care times that others would find helpful.
Billy responded by saying, "From a mental health perspective, I've found for myself it's important to work on something only when you feel passionate about it. Intellectually, it doesn't make any sense, because you ask what about if I don't have any passion for this thing I must do."
He continues, "It's weird, but I've found that if I let my passion guide me, I end up working longer and harder than I if I say I must do something and I end up resenting my work. Also, I think it's important that whatever you do, you can't have a harsh inner dialog.
"This created a negative loop in my mind where work was not fun and made me feel worse about myself, as opposed to being grateful and being excited about the thing that I love. It's hard to get there but when you do, you become a much more effective worker – because you're working with something that you love."
Advice for those aspiring to work in the wrestling business
We spoke to Billy about the British wrestling scene which is in the process of being rebuilt and asked what words of encouragement he may have for those looking to break into the industry.
He said, "One of the best things about the wrestling business is it rewards passion. If you're passionate about the business and you're willing to work hard there's always going to be a place for you in professional wrestling. Don't be afraid to start at the bottom.
"When I went to TNA, I was on the booking committee but I was not in charge of those decisions. I was a producer and I was of making vignettes with the talent. I'm a big rock star, but they didn't hand me the cushy jobs, but one of the ways I gained respect with 'the boys' was that they saw that I was willing to work hard. I did not put my status as a star before the work at hand.
Once they saw that I was willing to roll my sleeves up to get them over and to get the company pointed towards a place of success, that's how I gained my reputation in the wrestling business. I could not have possibly done this if I had come in and gained an executive position and thrown my weight around.
I learned so much about producing vignettes for TNA that it has everything to do with the NWA culture. You have to be willing to be that guy who assembles the ring or does little things for an executive, those can be very valuable experiences. Never look down on working your way up the ranks of the wrestling business."
Words: Sam Smith | Interview: Dom Smith | Photo: Hiban Huerta/NWA