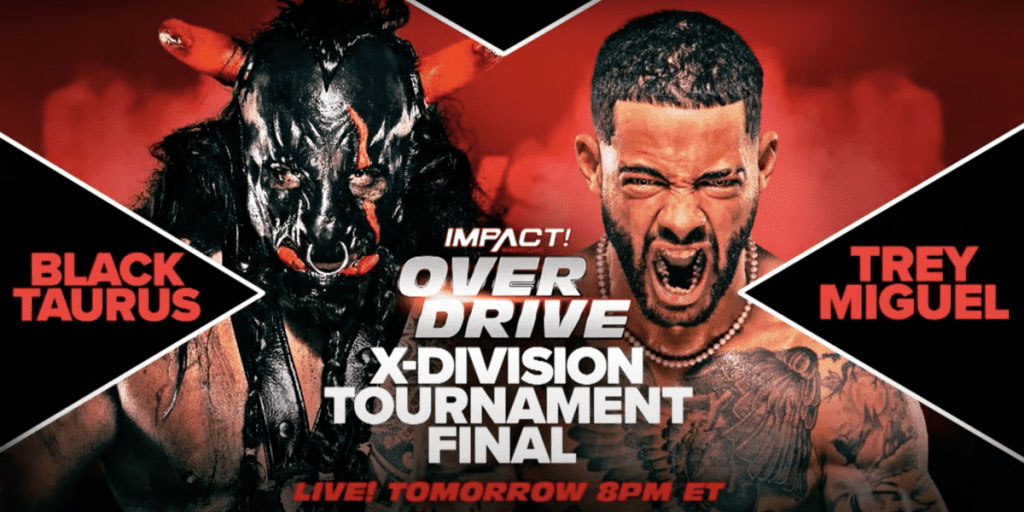 By Sam Smith
Trey Miguel is a wrestler for Impact Wrestling where he's a two-time X-Division champion. Trey started his second reign in November 2022 after defeating Black Taurus during Impact's Over Drive special to win the vacant championship. We spoke to Trey about his origins in the business and what inspires him outside of the ring.
As Trey Miguel has been is known to channel Spider-Man in his choice of ring attire and his high-flying style, we compared his career to a superhero movie, asking Trey to tell us his own origin story.
'I don't even remember falling in love with wrestling, I just remember it as well as I remember my first words. It's just been my favourite anything, just as far as I can remember.'
'My best friend Brent's father used to be a pro-wrestler in the late 90s, at a place called the MWF. He decided to start a wrestling school, found a building and we started renovating it. One day, while I was helping out, he offered to train me and I said, "Absolutely." I was too young, but my dad agreed to let me do it because I felt so strongly. This was in 2009.'
'I had my first match in Adrian, Michigan, in 2010 and it was against my best friend Brent. It was for this little rinky-dink promotion called TXWE. It stood for Total Extreme Wrestling Entertainment but it was so family friendly, you couldn't even say "you suck" to someone.'
Breaking into the business
'By the time I turned eighteen I got to wrestle for Ring of Honor for the first time. I thought this was it, I'm making it, fridge is going to be full tomorrow! Then I got home and nothing changed. Soon things got tough and I started to fade in and out of wrestling and I wanted to quit. I didn't known what I wanted to do anymore.'
'Then a promoter called Big Bubba Atkins from MCPW reached out offered to bring me in. He offered me $40 and before this I had never been offered even a dollar to wrestle, so for someone to give me $40 – that did a lot for me. It's funny to think that $40 saved my wrestling career. So I decided to stay with it.'
'Around 2015 I met Zackary Wentz, my fellow Rascal, and we became best friends and brothers. I moved down to Dayton, Ohio to train with him and Desmond Xavier (now WWE NXT's North American Champion; Wes Lee). They had already been frequenting a place called Rockstar Pro, so I dipped my toes in there before branching out to other promotions.'
'When I got to do my first tour of England, Impact reached out and asked if we wanted to wrestle for them. Unfortunately, we were heading home that same day. Later Zackary and I got a call for a tryout match, Desmond had already been signed there, they then decided they wanted to sign us and we formed the Rascalz. A few months later, we took that to television and things just continued to boom.'
Impact's X-Division
Impact Wrestling's X-Division is unique across all of wrestling, being so much more than just a cruiserweight division – it's also a division that seems perfect for Trey. We asked him, how much of this was by design, or if they high-flying style just came naturally to him.
'If you were to have asked me what kind of wrestler I wanted to be in my first day of training, I would have said John Cena. I wasn't familiar with how crazy wrestling could get. I wasn't very familiar with the independents, I only really knew WWE and TNA at the time. I was just getting hip to Ring of Honor, and was only really dipping into to TNA. I was WWE through and through at the time.'
'Then I started seeing the X-Division and watching Amazing Red. I was just a few months into training and I go round to my friends house and I see Amazing Red with his mohawk, and I had one too, and he's a smaller guy like me. Then I see a match between him and Kurt Angle and it was just so bang bang bang! I had never seen Kurt Angle is such a quick athletic match that was also so competitive and I was so blown away by it. That's when I said, that's what I want to do.'
Trey also told us that he'd love to work more with his mentor Alex Shelly and would also like to meet Josh Alexander again in the squared circle.
Trey Miguel outside of the ring
We then asked who is Trey Miguel outside of the ring and what inspires him. He said:
'I'm a huge movie buff, that's one of my favourite things to do outside of the wrestling ring is to go out and watch movies. I just went out last night with Sam Beale to watch Black Adam. Unfortunately, I thought the first fifteen minutes were awesome but we had just eaten the biggest meal at a restaurant called Frickers and…. well, I passed out in the theatre last night! So that's one I'm gonna need to go back and see again.'
We then suggested that Dwayne Johnson wouldn't be impressed if he heard Trey fell asleep during one of his movies. Trey then addresses the WWE legend and says:
'Rock, I just put over the first fifteen minutes – and you're going to get two tickets out of me. No, three, because I bought Sam's – so I'm helping.'
We then fantasy booked Trey Miguel against The Rock in Impact for the first time at Bound for Glory 2023 to squash what we're going to call the Black Adam beef – before thanking Trey for his time.
Check out the full interview on WrestleSphere's YouTube channel: