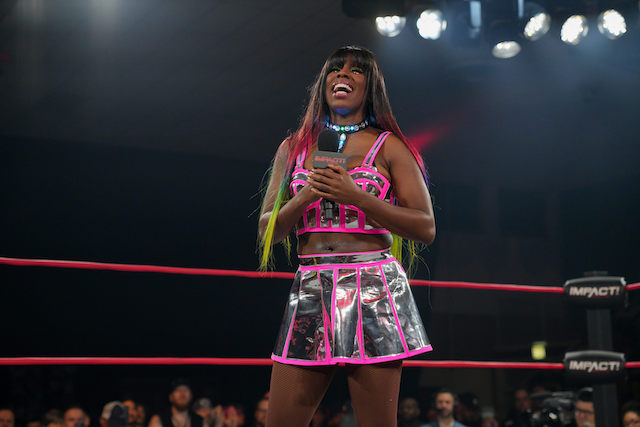 Conrad Thompson Will Host A Live Podcast From The IMPACT Down Under Tour
Major Fan Engagement Activities Scheduled With IMPACT Stars, Championship Matches Confirmed

IMPACT Wrestling presents the 4-day, 2-show IMPACT Down Under Tour, marking the company's first-ever major events and shows in Australia.
The stars of IMPACT Wrestling will be in the city of Wagga Wagga, New South Wales, Australia for four days of activities, starting on Thursday, June 29. The IMPACT Tour is supported by the NSW Government Regional Events Acceleration Fund and the two marquee wrestling shows will be held on Friday, June 30, and Saturday, July 1 both at the Equex Centre.
IMPACT Wrestling replaced New Japan Pro-Wrestling in Australia due to NJPW scheduling and talent availability issues. The NJPW Oceania Cup has been postponed.
The IMPACT Down Under Tour will feature most of the IMPACT stars, numerous championship matches and special challenge matches against the best Australia-based wrestlers. The shows will be broadcast worldwide on FITE TV and across IMPACT Wrestling international broadcast platforms, digital and social media.
"We are so excited to bring IMPACT Wrestling to the great fans of Australia, with a big thank-you to the NSW Government and the Regional Events Acceleration Fund for helping this tour," said IMPACT Wrestling president Scott D'Amore. "Australian fans will see the stars of IMPACT Wrestling in-action, in-person and will experience first-hand the excitement, energy and emotion of The IMPACT Zone when we hit the city of Wagga Wagga."
Wagga Wagga is located midway between the two largest cities in Australia, Sydney and Melbourne.
The IMPACT Down Under Tour will be the company's first shows outside of North America since a show in the UK in September 2018 that included Rich Swann, Joe Hendry, Sami Callihan and Moose, among others. IMPACT's last major international tour was in May 2017 in India.
Renowned wrestling podcaster Conrad Thompson will be coming to Australia for the IMPACT Down Under Tour and he will be hosting a live podcast on Sunday, July 2.
"This is my first time in Australia … I am really looking forward to seeing the fans and having an awesome experience in Wagga Wagga," Thompson said.
Cam Vale, managing director of Australia-based GLO Sports, said his company is proud to facilitate the partnership between IMPACT Wrestling and the NSW Government.
"The way IMPACT Wrestling has been able to come in and support this event on short notice has been phenomenal and a testament to their international ambitions," Vale said. "The broadcast reach of this event will be significant; it will drive economic activity and showcase the Equex Centre as a multi-sport venue capable of hosting international events.
"I am fortunate to have worked with Destination NSW on many occasions in my career and am excited about the opportunities the IMPACT Down Under Tour will bring to engage local business and community stakeholders, showcasing Wagga Wagga as a great location for signature events like this."
The IMPACT Down Under Tour will include major fan engagement elements, including wrestler meet & greets, autograph sessions and more.
"IMPACT Wrestling is giving opportunities to Australian wrestlers, referees and ring announcers to be part of this event, an amazing development opportunity for this region," Vale said.
FITE chief operating officer Michael Weber said, "FITE is thrilled to distribute another great event from our long-time partner, IMPACT Wrestling, which continues to grow its international market with these live shows in Australia, available worldwide exclusively on FITE."
Tickets for the IMPACT Down Under Tour will go on-sale on Saturday, May 13, at 7 p.m. EST (Sunday May 14, 9am AEST) at www.oceaniaprowrestling.com and via www.intix.com.au.
The $40 million Regional Events Acceleration Fund is part of the $2 billion Regional Growth Fund, designed to support growing regional centres, activate local economies and improve services and community infrastructure for regional communities.