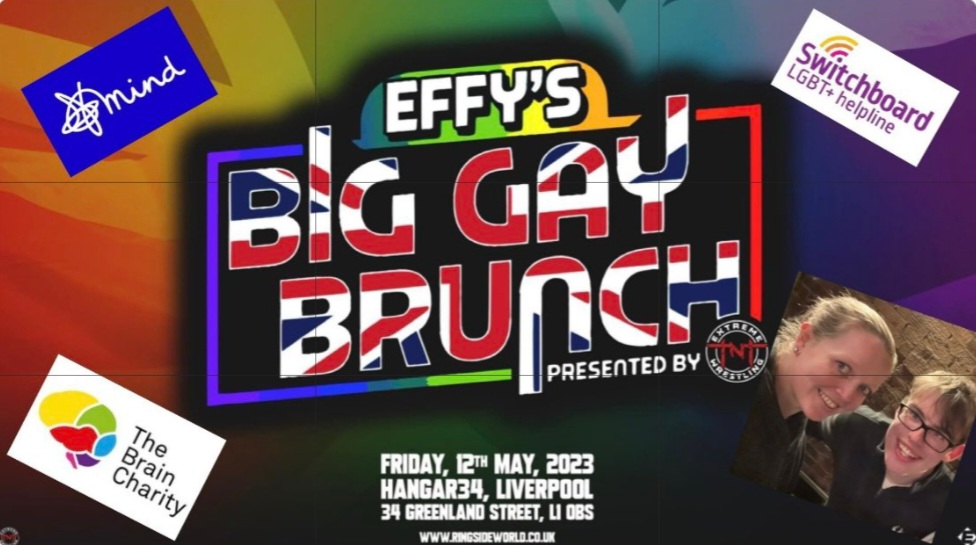 TNT Extreme Wrestling presents Effy's Big Gay Brunch in Liverpool in front of an almost sold-out crowd, but two fans won't be cheering at all.
Lauren Wilson and Charlie Crothers will be staying silent from the minute they walk into Hangar 34 until the end of the show.
The purpose is to raise money for three charities: Mind, The Brain Charity, and Switchboard LGBT+.
Wilson, the fundraiser organiser, wants to represent people who are forced into silence due to stigmas surrounding mental health issues.
The 29-year-old believes this will be a fun yet practical way to start the conversation.
"It's all well and good screaming and shouting about charities and mental health on social media but people don't always notice, whereas me saying absolutely nothing, people will turn around and go 'hang on a minute, what's going on?' because it's something so different.
"We both have a bit of a reputation for being noisy in the crowd. A lot of people have said to me before that they know my voice but they didn't know my face, so it's something that I thought would make a big impact.
"Being silent is going to be a struggle for both Charlie and me, it's going to be like four or five hours long, but it's going to be nowhere near as much of a struggle as the people who have to live in silence every single day because they have no one to talk to."
Wilson was diagnosed with Myalgic Encephalomyelitis (ME) / chronic fatigue syndrome at 14 years old and calls it a "massively invisible" condition.
May 12, when Effy's Big Gay Brunch takes place, is International ME and Chronic Fatigue Awareness Day.
She says everything has aligned perfectly for her to raise money and get more people talking about mental health.
"You can't see that anything is wrong with me, yet I had a daily battle for maybe six years just getting out of bed," she added.
"You try and talk to someone and they just say you're lazy and things like that – people don't understand.
"Without having someone trustworthy to talk to, you just end up closing off and spiralling into more depression.
"It's about removing the stigma, so people aren't afraid to turn around and put their hand up to say, 'Actually I feel really bad today and I just need someone to talk to.'
"People are scared to talk about depression and suicidal thoughts.
"I've been there, I know other people who have been there, and a few wrestlers have been pretty vocal about it.
"Members of my family are part of the LGBT+ community and it's the same there. If you look at the statistics, people on the LGBT+ spectrum have a higher rate of mental health issues.
"People don't always have someone open-minded to talk to about what they're struggling with."
The initial aim was to raise £200 for each charity involved.
This would allow Switchboard LGBT+ to answer 50 phone calls on their helpline.
The duo have reached this goal already and have added a new higher goal of £800.
Due to hitting targets along the way, Wilson and Crothers will dress up as Scooby-Doo and a Tinky Winky.
Wilson is grateful for all the endorsement she has received, saying: "TNT [Extreme Wrestling] have been brilliant and really supportive with us.
"Once we got the plan nailed down, they cleared it all with Effy really quickly and launched it all off of their social media.
"The Brain Charity has been absolutely amazing. They've given us collection buckets and all sorts, and I've got t-shirts from The Brain charity and Mind."
The Morecambe native claims the support is reflective of the wrestling community's friendly nature which has helped Wilson through her toughest times.
"Wrestling has been my safe place, it's just an escape.
"The day my marriage fell apart, I went to a show at the Frog & Bucket. My whole world was crumbling, but for four hours it didn't matter. I was sort of distracted by everything and that helped me.
"Also I've made so many good friends just through wrestling. I wouldn't have known Charlie if it wasn't for wrestling.
"One friend that I met, I hadn't seen him in probably two years, we bumped into him at For The Love of Wrestling then the next day he donated £85 just because he wanted to see me dress as Scooby Doo.
"Wrestling has brought that to me. So many of my close friends now have been found in that scene and I know a lot of other people are the same.
"There's a lot of oddballs in wrestling but we've all got our own oddities and we all look after each other. Everyone's welcome and there's nobody excluded."
Effy's Big Gay Brunch is hailing from The UK for the first time.
Wilson says the excitement for the big event will make staying silent quite difficult.
She continued: "The number of people who have laughed in my face and said, 'no way you're going to be able to stay silent for a whole show', my stubbornness will just kick in and I'll have to prove everybody wrong.
"I know there are a few people that are going to test us. I have a feeling that Charles Crowley is going to make it really hard for Charlie.
"[The biggest challenge] has got to be the Rainbow Rumble for me. Some of my absolute favourites are in it.
"You've got Prince Pele, Aiton Steen – who has been my favourite since I first saw him, Tony Wright – how could you forget him?
"There's just so many talents.
"I'm pretty confident that the pair of us will make it through. We might end up at the end of the show running out of the building just to end the silence then run back in, but we will do it."
Donations can be made here.