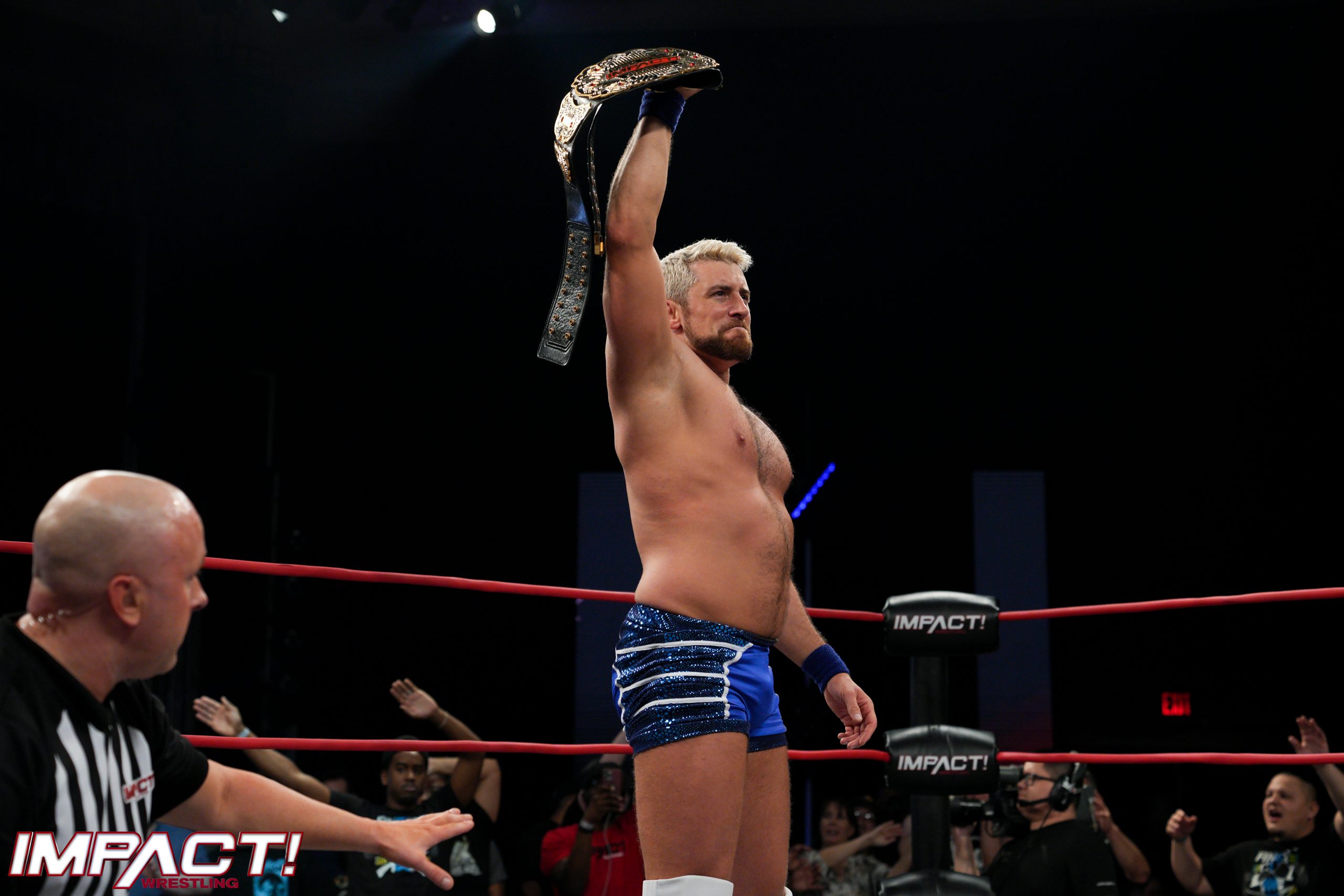 Wrestlesphere sat down with the former Impact Digital Media Champion Joe Hendry to discuss his time in Impact Wrestling, the upcoming UK tour and much more.
Knowing music is one of Joe Hendry's great loves along with wrestling, we asked him how he managed to marry the two and if he ever had any trepidation when when he crafted his wrestling persona or did it just come naturally? He told us:
"It's something that's come about organically after a chance encounter with Eric Young during our tour of Germany. He was watching my stuff and made some suggestions and I took them on board. And really, these few conversations with Eric Young were what I needed to make the final touches to what I was presenting."
"I believe his input is what led me directly to that long championship title run, so I'm very grateful to EY for that. With regards to trepidation, no, not at all. I was able to look at wrestling as a business and I was starting to realise that when it came to professional wrestling, if you had an entrance that was over, that was really half the battle."
"So what I lacked in experience when I started, I was able to cover a lot of ground by having the best entrances. I'm trying to create things that would be interesting to a none-wrestling fan."
Impact Wrestling UK Invasion
We asked Joe Hendry about the Impact Wrestling UK Invasion and what he's looking forward to most about coming home with Impact.
Joe said, "I don't think people realise how difficult it is for British professional wrestlers to get noticed in America, to get signed, to get over, and to become a champion in America. It's very hard to do and rare."
"But the British fanbase in professional wrestling has really kept a lot of us going for a number of years, so I'm looking forward to Impact bringing the product over for the fans to see what we're putting out there in person."
"I'm also looking forward to the Impact locker room, and for Impact management, to see what amazing fans we have here in the UK. This to me, is a demonstration of just how valuable the UK market is to professional wrestling, I know that for me and my colleagues, we wouldn't be where we are without it."
"So many of the talents who you see headlining shows now in all promotions, a lot of them got a lot of buzz from the UK scene. So I'm delighted that Impact can show a bit of love to the UK."
We then asked Joe Hendry if his locker room colleagues were ready for the incredibly rowdy UK crowd. He said:
"I think they're gonna love it, I think they're absolutely going to love it, and I think thats why all companies are seeing the UK as a top priority as a market. It's because the UK has an unbelievable passion, and always has had an unbelievable passion for professional wrestling."
"There's been times when the industry has leaned on the UK and the fanbase has gladly propped up the industry. If you think about Impact way back in the day, the shows were so popular here. I think the enthusiasm we're seeing for Glasgow, Newcastle, Coventry, for the product, people can't wait to see it. And we're bringing an absolutely stacked roster."
"The whole purpose of this tour isn't just to put on some shows. No. We're bringing our A-game. Every show is going to be pay-per-view quality card. We're coming because we mean business and we're going to send a message that we have the best professional wrestling product in the world today. I wholeheartedly believe that and I'm going to do everything in my power to prove it – and I know the rest of the roster feels the same."
"Impact is on a sharp upward trajectory" – Joe Hendry
Finally, speaking about Impact Wrestling, Joe was excited for the future of the promotion beyond the UK tour, saying:
"I chose to come to Impact Wrestling, this is the perfect platform for me because of the creative freedom and I've been delighted by the opportunities I've been given to do what I do. I believe that Impact is on a sharp upwards trajectory, so nows the time to be watching."
"All you can ask for in this business is an opportunity, and thats what I get. They give me opportunities and I try my best to knock them out the park. Any time I'm given any opportunity I give it my absolute all."
"I'm tired, I'm exhausted, all I do is work, but its the choice that I made and I'm going to see it through 100%. It's the life I chose, it's the life I love, and I love the results. I'm hungry for more and I'm giving it everything I've got." 
The Impact Wrestling UK Invasion begins on Thursday, October 26th at the O2 Academy in Glasgow, before heading south to the Walker Activity Dome in Newcastle on October 27th, then finally heading to the HMV Empire in Coventry on October 28th and the 29th.