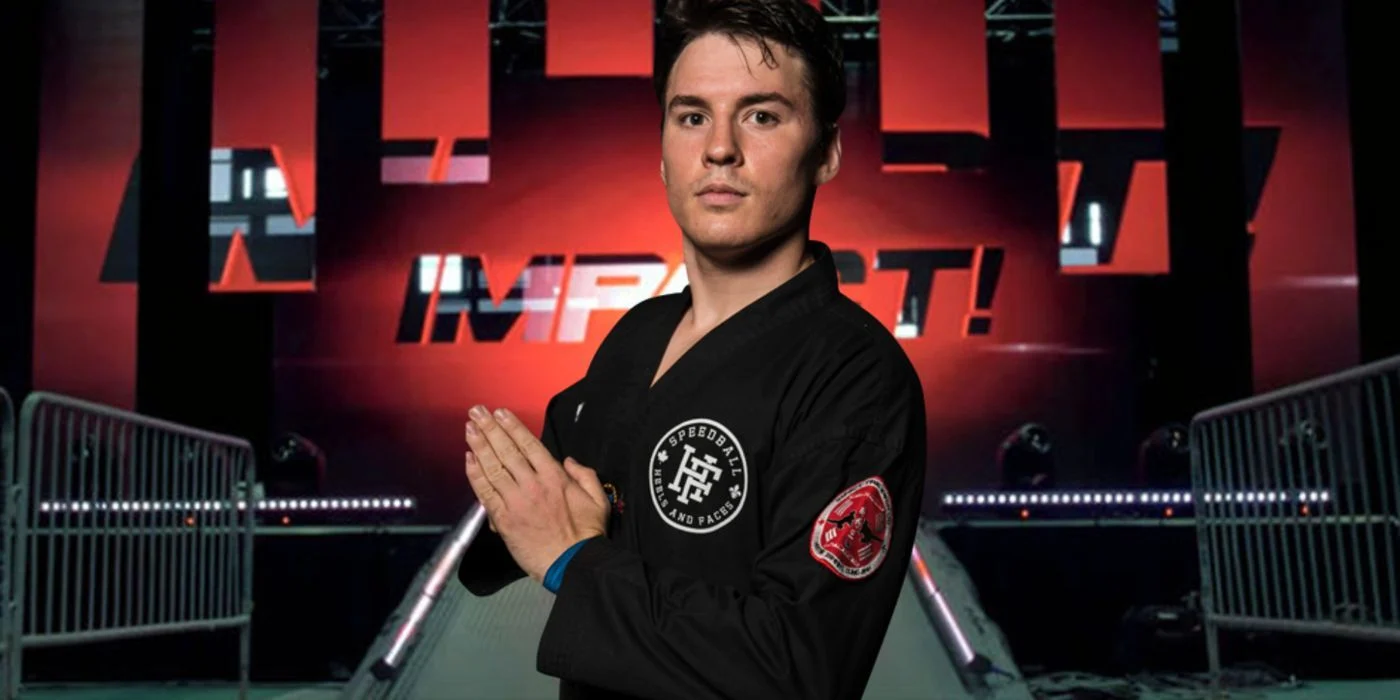 "Speedball" Mike Bailey is a professional wrestler and martial artist who's currently signed to Impact Wrestling where he's a former X-Division champion. We caught up with Speedball to discus his beginnings in wrestling and his plans for the future.
Knowing that all superheroes have an origin story, we asked Mike Bailey where his love of wrestling began. He said:
"I remember, very specifically, when I started watching wrestling and when I fell in love with it. It was immediate, it was when Kane was trying to set The Brood on fire. So it was seeing a giant masked man trying to set a gang of vampires alight that my brothers and I were watching, and immediately it was like; yep this is it. This is what we're going to do with our lives.
Then, and before they even had a chance to give us the warnings not to try this at home, we tried it at home. We took the mattresses down from our beds and started giving each other dropkicks and suplexes! I must have been about seven years old.
'That was my point of entry into wrestling but it didn't take me long to stumble on the more athletic, action-packed side of it. As I got older and began to consider this realistically I realised this was something I could do. I didn't want to play a vampire and I wasn't going to grow to seven feet tall, so the martial arts based style really started making a big impression on me."
Taekwondo in professional wrestling
Mike Bailey's wrestling style is that of a martial arts specialist, although he's also a high-flyer and can hold his own during a bout of catch wrestling. We asked Mike how he came up with and developed his unique, martial arts-based, style?
Mike told us: "I started watching the early X-Divison matches and a lot of Japanese wrestling, this was super influential to my love of wrestling. My style is absolutely who I am – it's not a gimmick. When I started, you were expected to do what you did in wrestling school, then you realise what you're good at.
'It took me quite a few years to realise that my martial art style was unique and allowed me to stand out as a wrestler. Taekwondo is my background, I competed in it for many years. I've also done boxing and dabbled in everything else, but it's the mindset of martial arts that's influenced my wrestling persona more than the kicks."
Wrestling on a major stage
We then asked Mike how he feels about being on such a large stage now that Impact has so many viewing options such as Impact Plus on YouTube, its own app, and a partnership with DAZN?
"I love what Impact has been doing, one of the ways I think they really stand out is how much media they've been putting out, especially on the YouTube. When I was unable to wrestle in the US, I aimed to work for a promotion that had major visibility like Impact.
To know that I was correct in thinking the reason why I didn't have as much notoriety as some of my peers in the US was not because I lacked the talent, but just because of where I was. So, yeah, Impact has been fantastic in offering me that visibility."
Wrestling Hiroshi Tanahashi & Jonathan Gresham
Mike Bailey vs. Hiroshi Tanahashi was the main event of Multiverse United in Los Angeles in April 2023. We asked Speedball how he felt about main eventing this important show – and against such a legend.
"That was actually my first time sharing the ring with Tanahashi. It was quite the experience. I used to be asked who my dream opponents were and I'd answer John Cena or Tanahashi, because they are the two biggest names in wrestling. So, if I'm wrestling either of them it means things are going very well. To finally get to wrestle Tanahashi, one-on-one, in a main event of a New Japan and Impact joint presentation was absolutely surreal."
Mike Bailey has had quite the rivalry/partnership with Jonathan Gresham in recent months, a wrestler who's the polar opposite to him in terms of fighting style. We asked Mike how he's coped with such a styles clash, either when wrestling alongside or against The Octopus.
"It's definitely not over. Our first ever singles match was for CZW in 2015 and we've clashed several times since then. But he is one of my favourite people to wrestle. Styles make fights is also true for professional wrestling and we're so different but we're also two of the best wrestlers in the world at what we do. I mean Jonathan Gresham has narrowed down what he does so exceedingly well. There's no one out there like him."
Championship aspirations
We wondered if Mike will be returning to the title picture and asked him now that he's held the X-Division Championship, are his thoughts turning to the World Championship?
"I don't know. I mean PCO's up first at Under Siege, but I'm like water and if I float back to the X-Division championship then that's what I'll do. The reason I didn't do option C when I was X-Division champion (Cashing in and relinquishing the X-Division Championship for an opportunity at the Impact World Championship) is because I wanted to hold both at the same time. That is still my plan.
I've also been side-eyeing the Impact Tag-Team Championships. I think myself and Jonathan Gresham work very well as a team, so that's something I would also consider."
Finally, we asked Speedball how has Impact Wrestling been as a home to him.
"I got to win the X-Division Championship at last year's Slammiversary pay-per-view event in an Ultimate X match which was the biggest moment of my career at that point. It couldn't have been more perfect.
So, Impact is the perfect place for me right now. I'm getting to make Impact history and all these moments. Wrestling is better right now than it's ever been and I think Impact has got a lot of momentum. I love being there."
Impact Wrestling's next event is Under Siege on May 25, 2023. The event can be watched on YouTube through Impact's Ultimate Insider's service.