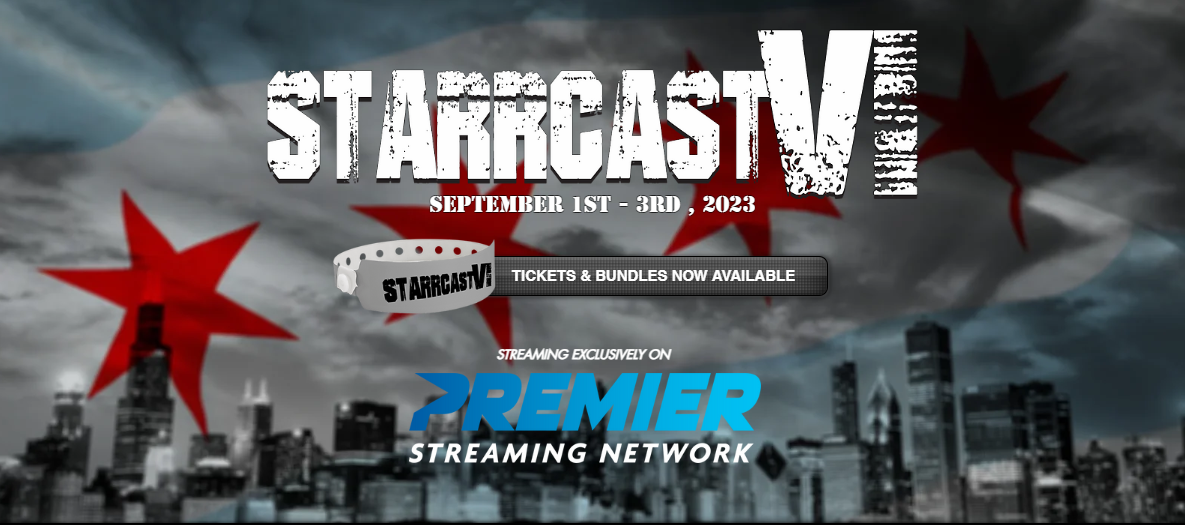 STARRCAST VI, the wildly popular professional wrestling fan fest that has been referred to as "The Woodstock of Professional Wrestling," will be available exclusively on Premier Streaming Network (PSN). From September 1st through September 3rd, emanating from its birthplace in the Chicagoland area, STARRCAST VI will bring wrestling fans some of the most unique interactive experiences, autograph opportunities, and stage shows in the convention industry. And for those who cannot attend STARRCAST VI in person, they will get the opportunity to be part of the event by streaming the programming on PSN.
"I can't wait to bring STARRCAST back to where it all began in Chicago, and I can't wait to work with Premier Streaming Network to make our event available worldwide so fans who can't be there in person can still be part of the fun," said Conrad Thompson, STARRCAST founder, and creator. "In the coming weeks, we'll be making talent and stage show announcements, and all I can say is, if you are a wrestling fan and can't be in Chicago the first weekend of September, you are definitely going to want to watch on Premier."
"Being the exclusive home of STARRCAST VI is an honor for Premier Streaming Network," said Josh Shernoff, Vice President of Programming and Creative Development at Premier Streaming Network. "I've been involved in every STARRCAST event thus far and can't wait to work closely with Conrad and the rest of the STARRCAST team to bring fans a viewing experience like never before."
Tickets to STARRCAST VI are available now at STARRCAST.com, and WatchOnPremier.com will have STARRCAST VI streaming pre-orders available in the coming weeks.
"We're thrilled to be bringing Starrcast VI to Premier Streaming Network," said Paul Owen, President of Premier Streaming Network." "Over the years, few have worked harder than Conrad Thompson and the STARRCAST team to bring unique experiences to wrestling fans, and we are excited to have the opportunity to let fans around the globe partake in the STARRCAST experience through Premier."
To keep up with all the latest STARRCAST announcements, including talent scheduled to appear and stage shows, follow @STARRCASTEvents on Twitter and on Instagram.
To keep up with all Premier Streaming Network announcements, including live event schedules, follow PSN on social media:
Twitter: @WatchOnPremier
Facebook: Premier Streaming Network
Instagram: @PremierStreamingNetwork