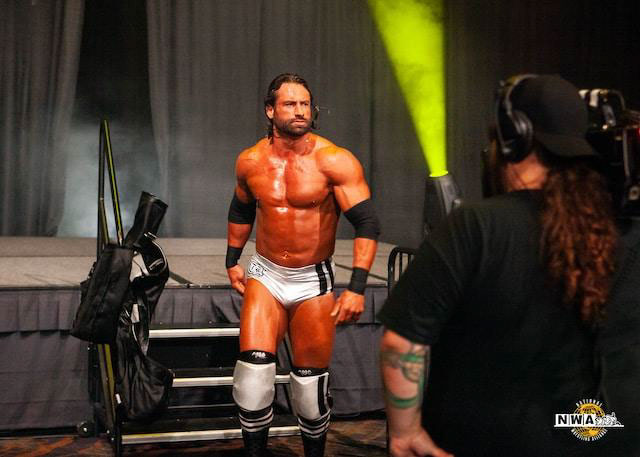 By Dom Smith
Thom Latimer reflects openly and honestly about quitting alcohol, his difficult time in WWE, and about finding his home in the NWA.
In this deep, and thoughtful interview, Latimer (the former Bram in TNA/IMPACT, and in WWE) reflects on how he has developed personally and professionally. We look at where Thom is at now, having beaten his demons, and found (some) happiness.
Latimer talks about training young wrestlers, and the purpose he has found in helping others, alongside making sure that he leaves a mark on the business with the remainder of his time in NWA.
The discussion also turns to NWA 74, and his impending match with Judais (backed by The Sinister Minister, James Mitchell this weekend – August 27-28, 2022)
The veteran Brit also opens up about what his UK supporters mean to him (being from Chesterfield, originally), and reflects on wrestling at Wembley, and how much he is looking forward to taking his wife, Kamille home, to meet his family.
Thom on success: "It's very easy for me to sit back and go, 'well, I blew this, and I blew that' I was given these opportunities, and I messed that up. It'd be quite easy to be down on myself. However, I am just some idiot kid from Chesterfield, and I have been able to travel the world on someone else's dime.
The 12-year-old me would be elated at the things I have done, the people that I have wrestled and the companies that I have worked for. The 36-year-old me, is upset about how I acted in the past. There's a lot I wish I could just erase. Success for me is making sure the last bit of my career is how it should have always been, hopefully that is how I will be remembered."
Thom reflects on his time in NWA, and how he has a better understanding of himself: "Now, I know who I am and what I am about. I know how to be responsible, and be a professional. They are all the things at 24, I didn't have. If it was WWE, NWA or anywhere else. I understand dos and don'ts – if the game needs to be played, I know how to play the game. If I could put myself now, back then, it would be a different situation."
"The NWA locker room is one of my favourites – there are no egos. Everyone, is together as a team. A lot of the guys in this locker room, I have known since I stepped off the plane, so it's a good environment for me. Billy (Corgan) takes great care of me, and Kailey [Kamille]. I know everyone says that. Genuinely, everyone would say the same thing."
On quitting alcohol: "When you quit drink, there is no crutch. Before I could just bury emotions, because I could just be drunk, and who cares? I had to get to the point where I had to learn to love myself, because I had fallen out of love a long time ago with myself. I feel like, the longer I go, the more I am figuring out who I am. At least I can look at myself in the mirror, and I am proud of myself for the first time. I feel like me getting sober helped me to realise that life is so much easier when you are not drunk – when you can show people emotions, and love, and be normal.
"I had to learn how to live again. Everything revolved around alcohol, so I had to learn how to go to the cinema and not be drunk, or how to go to a theme park and not be drunk? So, there's a lot to unpack, but the longer I spend away from that terrible person, the more I realise how easy life can be. Getting away from that, as daunting and scary as it was at first, was the best thing I ever did."