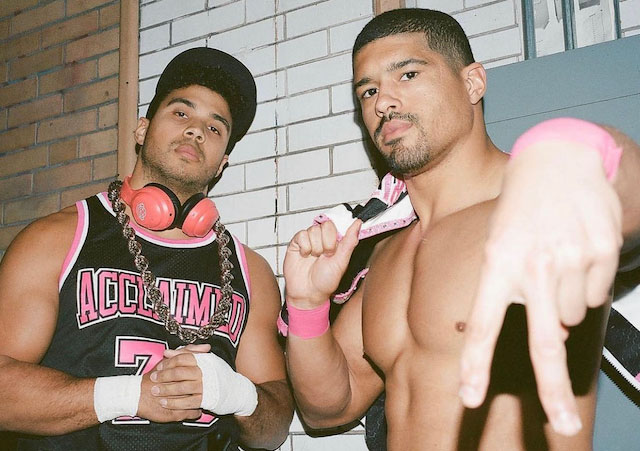 By Dom Smith
Max Caster talks about how he comes up with his raps in AEW, the success of The Acclaimed, wrestling fans and rap music, plus some of his own musical influences, including Atmosphere, and The Cure.
Caster is legally, according to the US government "the best wrestler alive" – It's my name, I have trademarked it, I have to prove it to the fans. When they do watch AEW, I want them to say, 'these guys are great, but Platinum Max, he is the best'." For Caster, that is success in wrestling terms, but in music, he's very much starting from scratch: "I do everything myself. I make the beats, I write the raps, I engineer and mix myself! It's now about building a team around me who are going to push me in the right direction."
The confidence that Max exhibits in the ring, and when he is doing his entrance promos is now approaching legendary status, and many of his diss-tracks against the likes of Sting and Darby Allin have gone viral. Max credits his time in college radio for giving him his style: "We did sports talk radio, and we did play-by-play for football and basketball. That got me comfortable talking, and not stopping! I can continue talking for as long as I want, because I have that skill."
As mentioned above, Caster's promos have become somewhat of a sensation in the wrestling media because of just how entertaining/controversial they can be, but there's a lot of work that goes in to making them: "Anthony [Bowens] will sit with me, and we will bounce ideas off of each other, if we laughs, I know that it's a good idea, if he doesn't and tells me that it might offend people, we won't do that."
As an example of this point, Max references a recent clash with Danhausen on AEW Dynamite where he was coming up with a rap: "You would think, 'Oh, Danhausen, there's so much to attack there, and to get after but it's a big spot, and you have to come with a TV-calibre rap. I'm sitting there and I don't know what I'm gonna say, and I go, 'What if I say that he's a white guy doing white face', and then he [Bowens] starts laughing. Oh, we're in Detroit, the home of the Insane Clown Posse, what if I call him a 'Juggalo' – Anthony starts laughing, so that's perfect. Some are easier than others, and it's a lot of pressure, but I work well under that pressure."
The Acclaimed's supporters will be pleased to know that there is a Gunn Club "diss track" currently in the works too, and that will compliment the feud that The Acclaimed are having with Billy, Colten and Austin Gunn on AEW TV: "The track is DONE. The song is called 'Trash Day' because we are gonna take out the trash when we get our hands on The Ass Boys there. I am not psyched with how that all turned out.
They got a big head and used us for the TV time that we earned ourselves. Together, The Acclaimed and The Gunns were arguably the hottest thing in AEW, we were pushing ourselves to the top. They got selfish. We got them over. When we are done, I am pretty sure they are not gonna be on TV anymore."
Max is clearly driven by a passion for music, and that comes from discovering different kinds of rap in High School, other than street-style New York rap around drug and gang culture (D-Block): "That is still great, I love that music," he says. "But then, finding artists like Atmosphere or Murs – who is a big fan of me now – that woke me up as to where hip-hop could go."
Caster goes on to discuss the diversity in his music taste, stating that indie was huge for him in college, and that's where he discovered artists like Atmosphere and Tegan and Sara: "Over time, I have found these new bits of music that inspire me. I realised that I could do other things away from what I'd heard on the radio. I have a pretty mixed taste, just like we all do nowadays. I think that comes out in the rap(s)."
a time when he almost quit wrestling: "There was a time when I wasn't getting booked by my own trainers," he explained: "If you can afford it, you need to commit yourself to your dream, and it's going to take a year of focused work, and energy. You're gonna have to make sacrifices. As long as you are not hurting anybody else, or sabotaging other people, I think that is the key: focus and work – it's not pretty and it doesn't happen overnight."
As the world is currently buzzing about a possible UK pay-per-view for AEW, Max has a strong and positive message for fans over here: "I've never been, but I know that wrestling fans in the UK and Europe are crazy, so I am really excited to go there. I don't know if anybody cares, but I am a huge fan of The Cure, so maybe we can talk about that!?
"Wherever we go, we say that everybody loves The Acclaimed. We've made that come true. When we first debuted, everybody hated us, but now everybody loves us. I also say that The Acclaimed loves everybody. If you are a fan of ours, we are a fan of yours. Thank you for the support."
For more information visit: https://www.allelitewrestling.com/
Check out the full chat below, where Max talks us through his favourite music growing up: