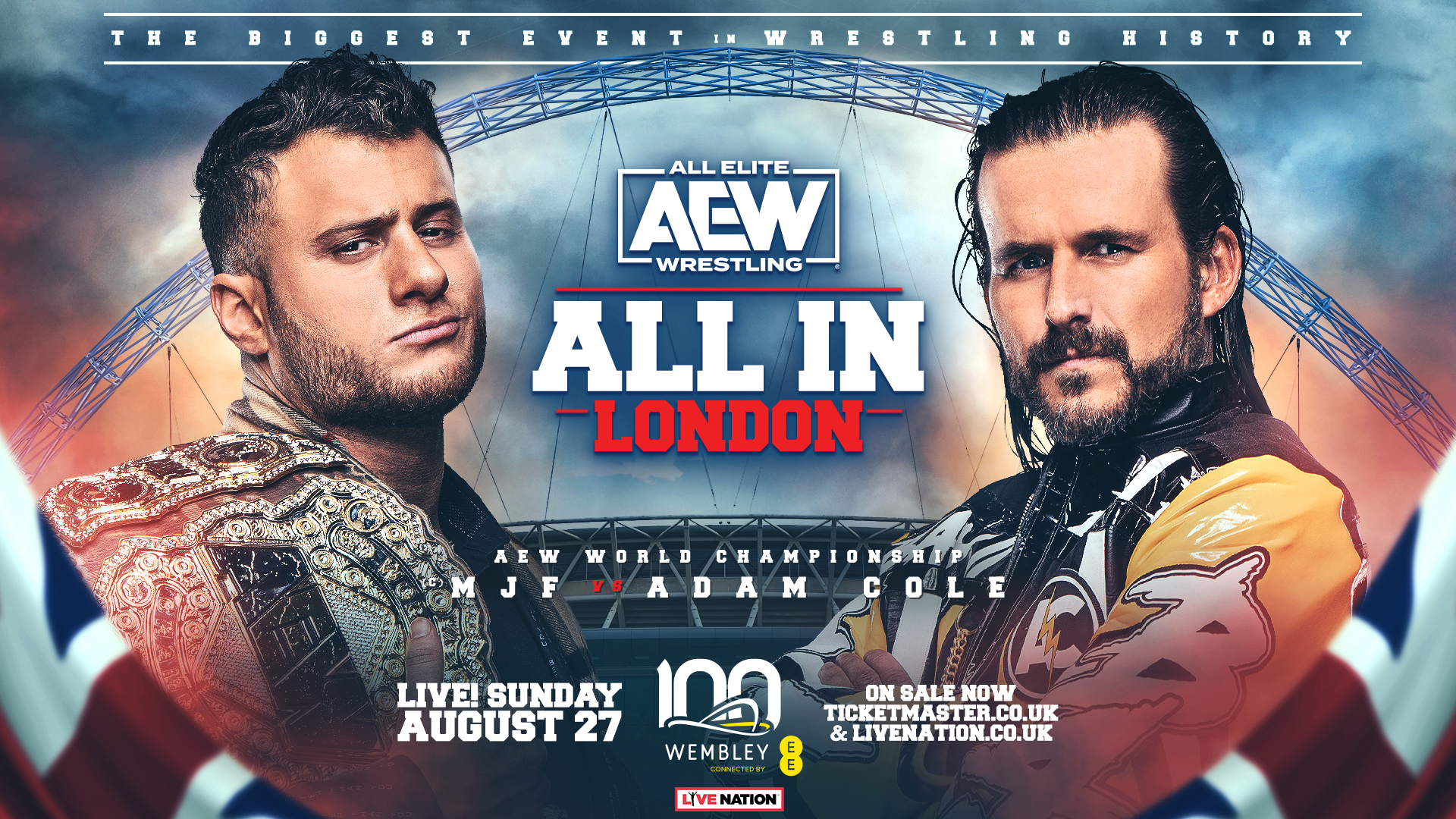 AEW All In London is over – and something now feels different.
All Elite Wrestling has been a worthy rival to WWE for a while now, a stacked roster, a lucrative TV deal and a billionaire lifelong fan at the helm has helped AEW change the face of professional wrestling in just a few short years. Now, after AEW All In London, the company has become undeniable. The stadium even had an atmosphere that was reminiscent of WrestleMania. From the build up, the execution, to the aftermath, the event has caused the sands to shift and on August 27, 2023, AEW truly, and completely arrived. The event will go down in history as a pivotal moment for All Elite Wrestling and its place among the giants.
Here's what we thought of each match in order of the card:
Grado, Paul White and Antony Ogogo silence Jeff Jarrett and his cronies
As the pre-show got underway, the first segment of All In wasn't a match but a fun crowd pleaser that gave some stars some much-deserved spotlight. As Double-J ran down the UK crowd, telling them British wrestling fans are inferior to US based fans, Paul White, UK legend Grado and British boxer Antony Ogogo came out to chase off the heels. 
It was a rather basic segment but that's all it needed to be, as the priority here was to showcase Grado as a thank you to his previous work. It was also nice to see him team up with White and Ogogo to get a measure of revenge on Jeff Jarrett after the pair's viral moments in the build up to All In. The segment put smiles on faces, which was exactly what it was designed to do. 
Aussie Open (c) vs. MJF and Adam Cole for the ROH Tag-Team Championships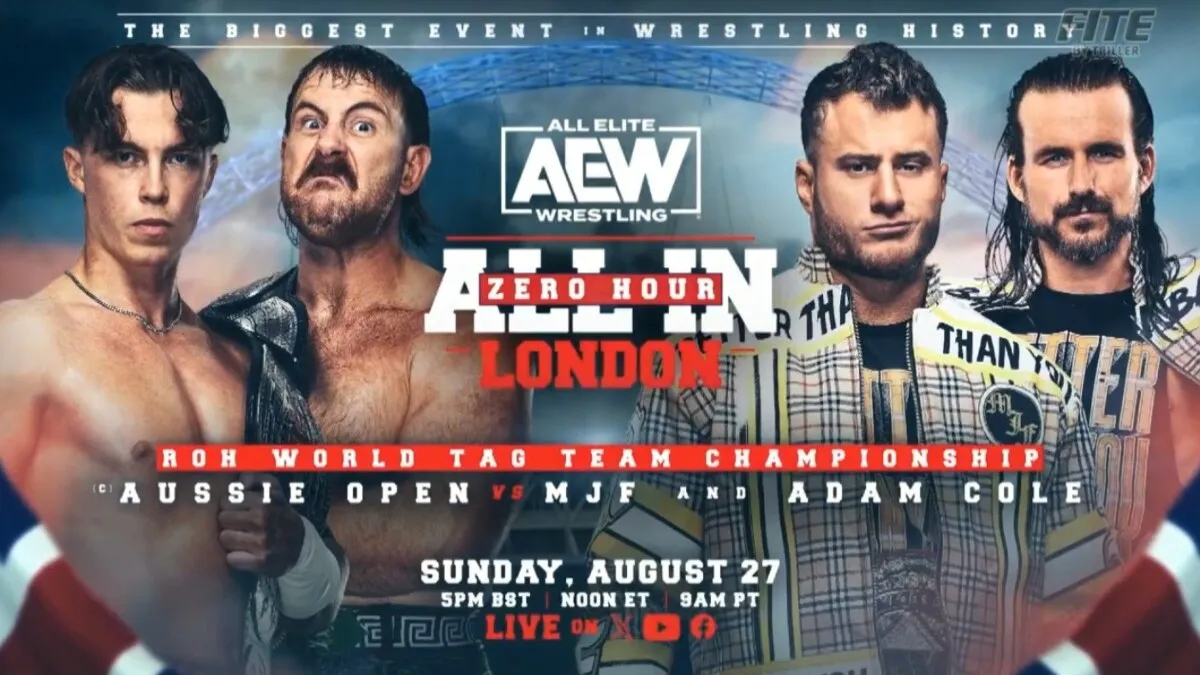 It was great to see some Ring of Honor representation on the card now that ROH and AEW are sister promotions, but the draw here was the "can they co-exist?" dynamic between Cole and MJF. Aussie Open looked like dominant heels, putting the heat on the faces throughout the match while Cole and MJF both tried to pretend there was no trouble in paradise, despite the title match between the two looming in the main event. 
The Better Than You Bay Bay duo were victorious, adding another interesting wrinkle to their already fascinating story. What will become of the tag team by the end of the show and does this mean we'll see MJF and Adam Cole on ROH TV? MJF finally got to pull off his kangaroo kick and both men delivered their signature double close line on the former champs. We also caught our first glimpse of Mercedes Moné in the audience.
Jack Perry (c) vs. Hook for the FTW Championship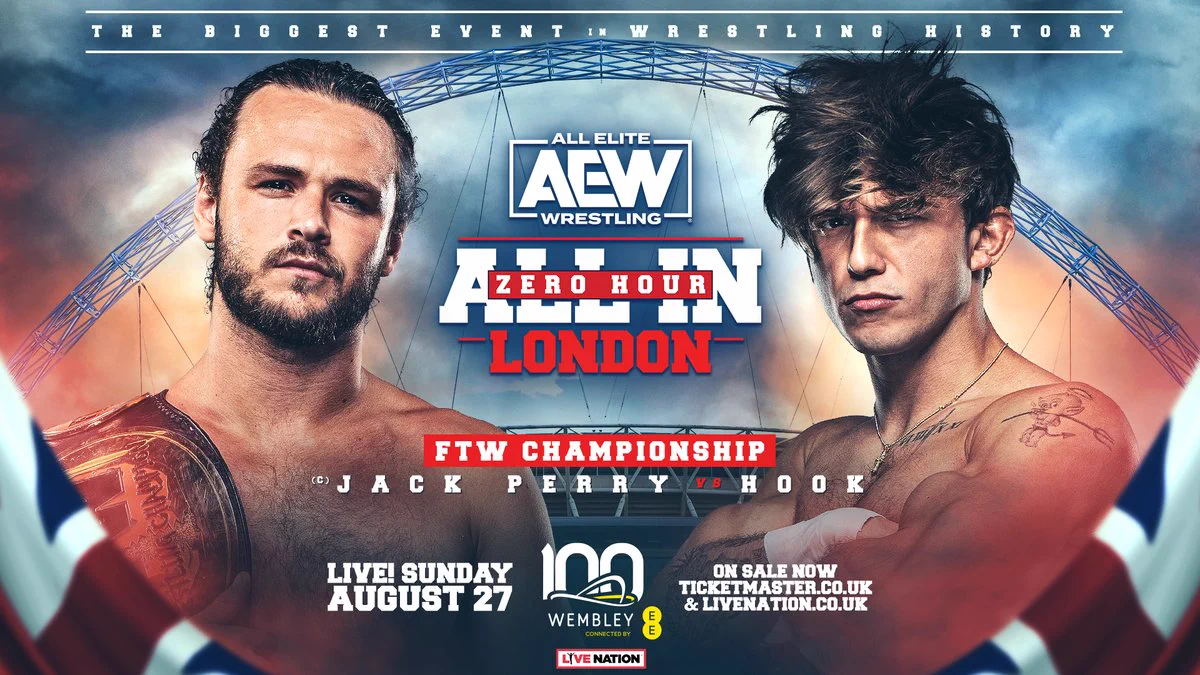 Jack Perry made an especially obnoxious entrance which was a masterstroke by AEW. It also popped the crowd when Hook rushed the champ to not only win back the championship his father created, but to punish Perry for his actions.
Despite being on the pre-show for an unofficial title match, this was a brutal affair where a villain got his comeuppance, but not before putting the hero through hell. Seeing Hook tap Perry out made it extra satisfying, closing out what was one of the best pre-shows AEW has ever booked.
CM Punk (c) vs. Samoa Joe for the 'Real World Championship'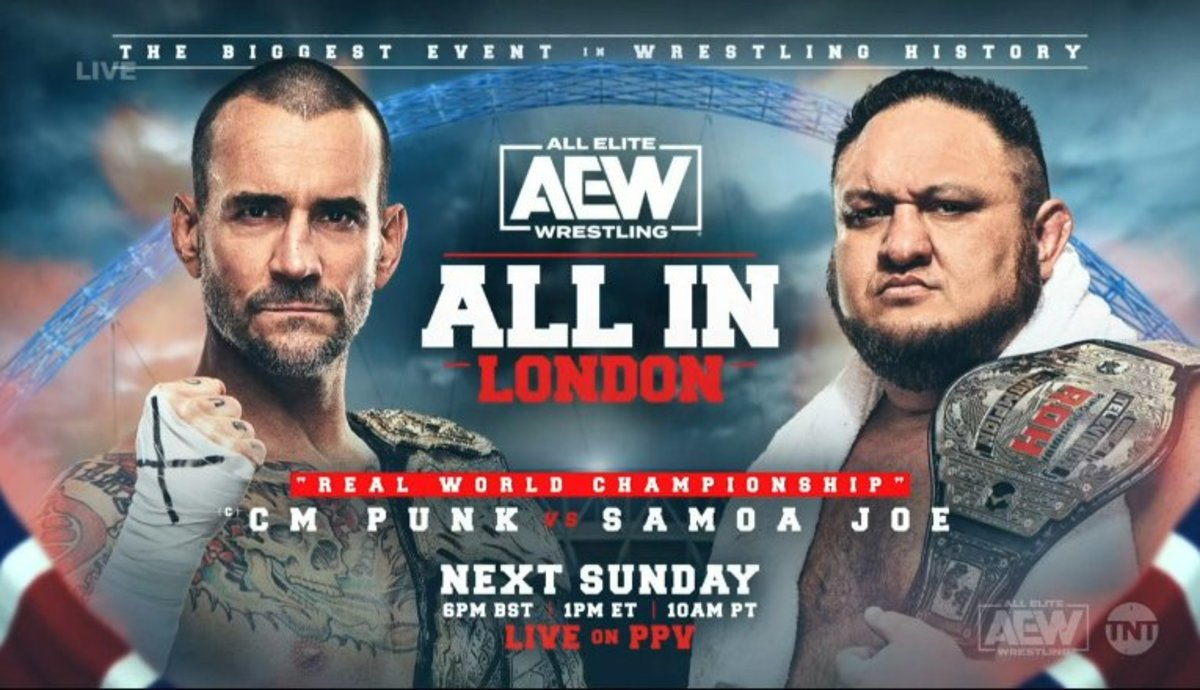 Two epic rivals from across ROH to AEW collided for Punk's 'Real World Championship' with the current ROH TV Champion and self-proclaimed 'King of Television' serving as the villain of the piece. However, the London crowd reaction to Punk was mixed and soon the crowd were firmly in Joe's corner with Punk leaning into the heat as the mood became clear. 
The majority of the match was a sustained beatdown on Punk at the hands of Joe, with Punk attempting to elude and frustrate his opponent, wrestling smarter instead of harder. This strategy eventually paid off with Punk scoring an opportunistic win after hitting Joe with a Pepsi Plunge. We'll be interested to see if this story continues on AEW TV, and if CM Punk can remain a babyface after such a performance. 
The Golden Elite vs. Bullet Club Gold and Konosuke Takeshita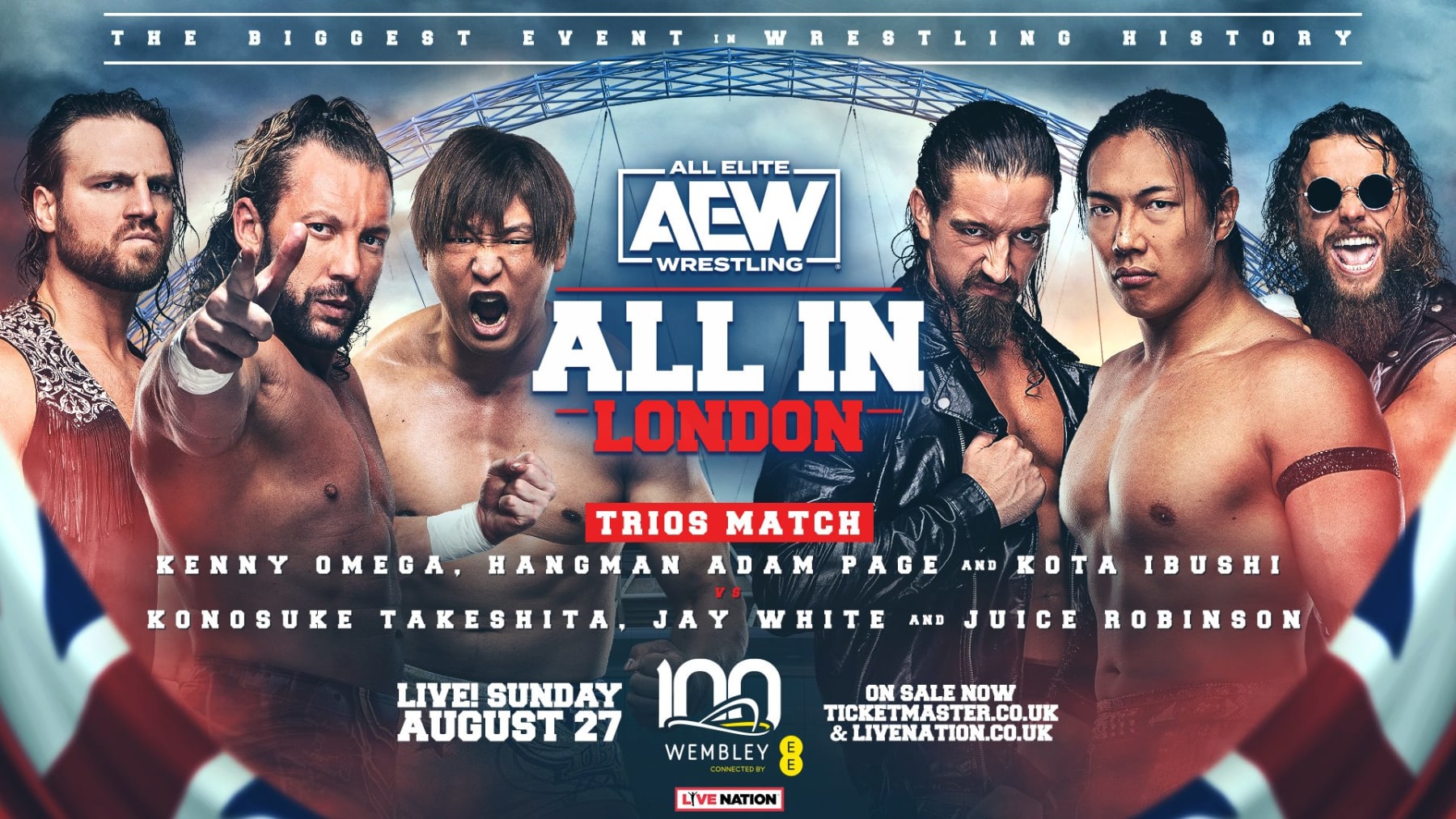 While there was some disappointment from fans that Kenny Omega was in a multi-man match and not a classic 7 star singles encounter, this bout more than made up for it. It was also interesting to see a return in hostilities between Bullet Club and some of their former Elite members – with both factions now being in their golden editions. 
The match was fun and always managed to be entertaining despite it having a long run time for such a fast-paced match six-man tag bout. However, even with all the star power, the match felt like it was mostly a preview to something bigger and more meaningful, which may well end up being that Kenny Omega singles match against an opponent like Takeshita. 
FTR (c) vs. The Young Bucks for the AEW Tag Team Championships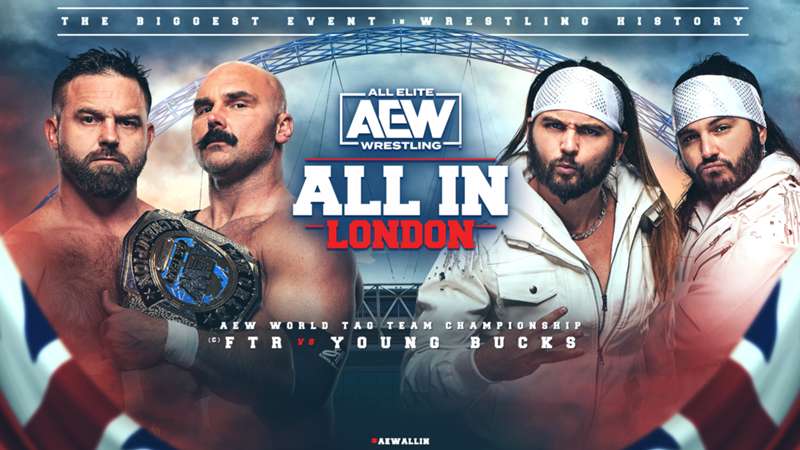 This was excellent, although it wasn't quite the barnstormer match that the Bucks had with the Lucha Bros in a cage, or any of FTR's series with the Briscoe Brothers in Ring of Honor, but it was exactly what it needed to be. FTR and the Young Bucks appear to be destined to do this forever, like the Joker and Batman, with each team taking it in turns to play the hero, the villain, or something in between. 
While the rowdy UK audience became especially fixated on Cash Wheeler with their chants, the champion took it in stride and reminded the crowd of what he was there to do – be one of the best tag team wrestlers in the world. FTR won this much-anticipated rubber match and we already want a fourth encounter. The Bucks refused to shake their rivals' hands after the match, which added a tantalising tease of future drama.
Stadium Stampede (Orange Cassidy, Trent Beretta, Chuck Taylor, Eddie Kingston and Penta El Zero Miedo vs. Jon Moxley, Claudio Castagnoli, Wheeler Yuta, Santana and Ortiz)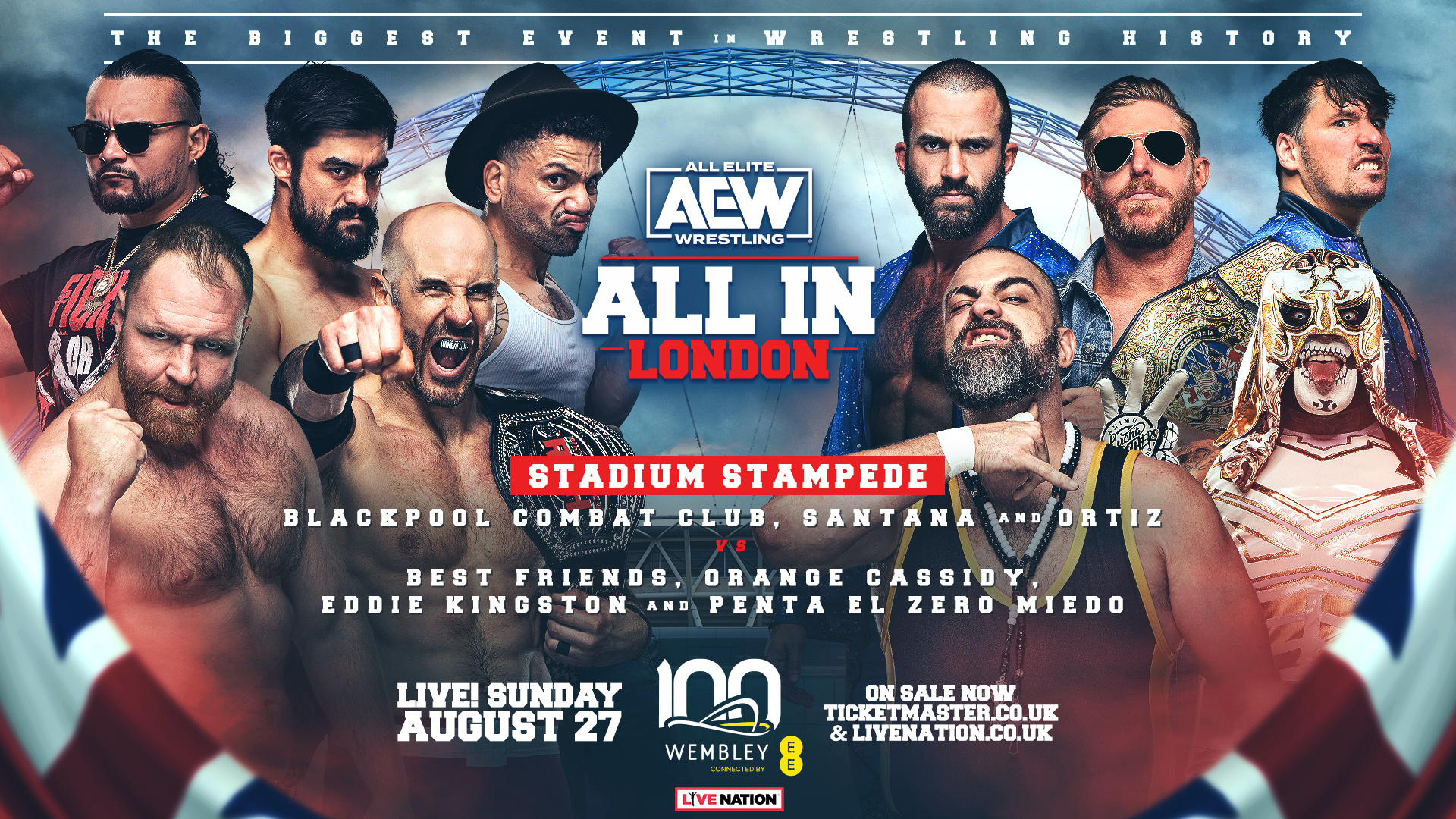 Stadium Stampede matches often feel like a hangover from the Daily's Place, aka pandemic era of AEW, but this match finally shed that association. It was also a much more focused and serious affair, featuring no horses, ice machines or whiskey, just a football field full of violence. Props to AEW for the effort they've shown with Orange Cassidy and the Best Friends in recent months, booking them as serious tough guys rather than the fun-loving huggers they were previously
While it was fun to see Moxley in his natural habitat, the return of Penta Oscuro, and a cameo from Sue and her minivan, it was Eddie Kingston who was the MVP of this match. Kingston always looks legitimate and his perpetual underdog status has made him one of the most over babyfaces in both AEW and ROH. His comic timing is also immaculate, as was demonstrated by his gesture towards his fallen foes at the end of the match. 
The story is now surely a tug of war for Moxley's soul between himself and Claudio Castagnoli, who also happens to hold the Ring of Honor World Championship, a title Kingston seems destined to win. 
Saraya vs. Toni Storm, Britt Baker and Hikaru Shida (c) for the AEW World Women's Championship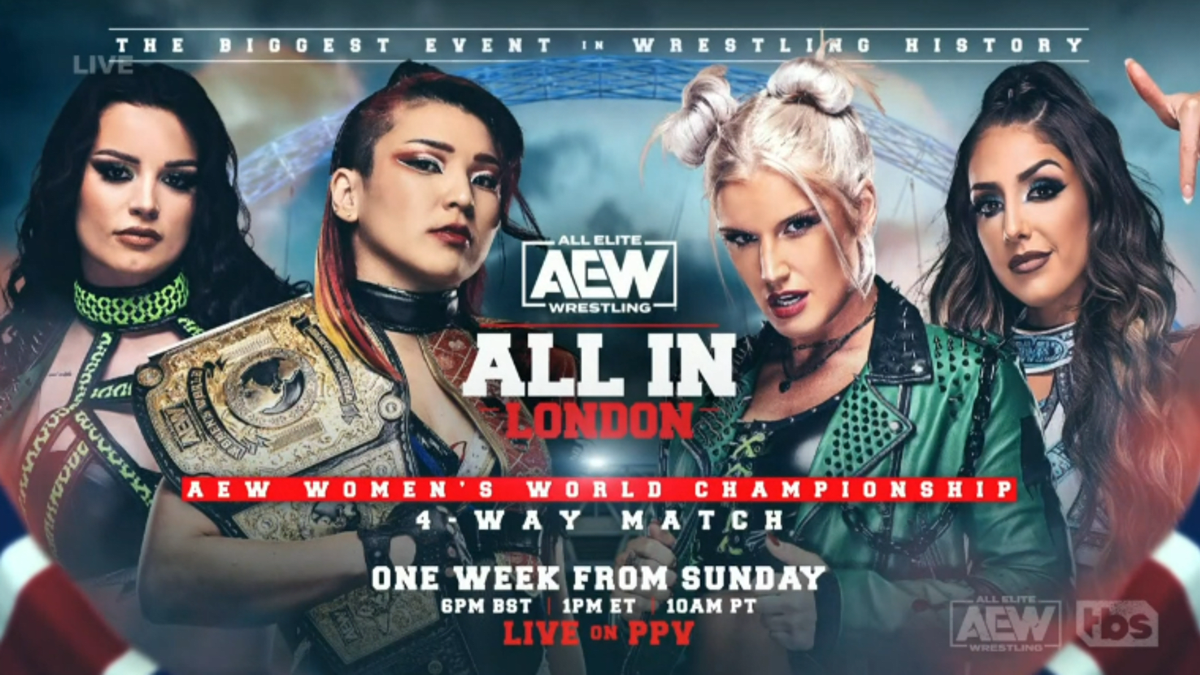 Saraya was booed as a heel when she walked to the ring flanked by other members of the Knight family who were featured in the movie about her life, Fighting With My Family. Toni Storm embraced the returning UK legend as both women are members of the Outcast stable along with Ruby Soho. The implication is that the two would work together to take out Britt Baker and the current Women's Champion, Hikaru Shida. 
This alliance didn't last long, as neither woman would allow the other to score a pin, with violence soon erupting that even stablemate Soho was not spared from. Shida and Baker both put in plucky babyface performances but the Outcast drama dominated the action with Saraya scoring the win and celebrating with her family. It was a nice moment, but everything could change in a week at All Out. After all, Saraya will have more people gunning for her if the Outcasts are truly over. 
Sting and Darby Allin vs. Swerve Strickland and Christian Cage in a Coffin Match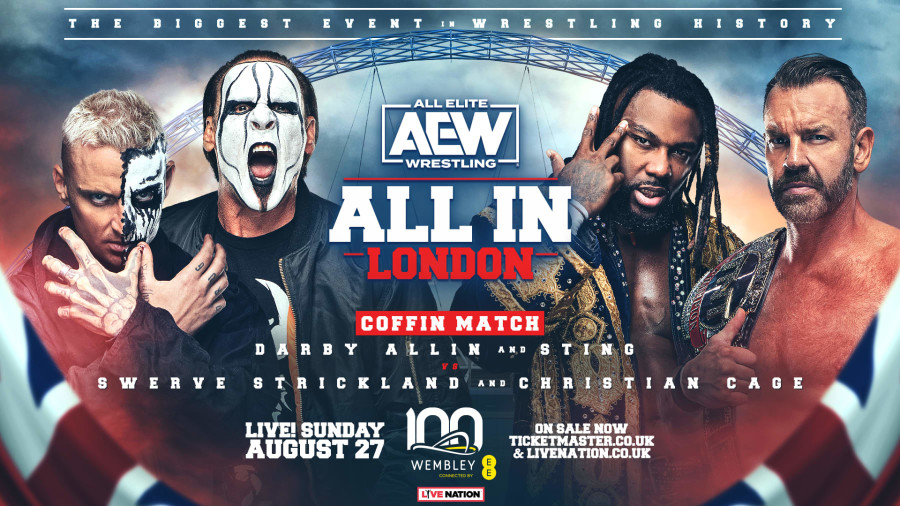 Sting and Darby Allin came out to Sting's old WCW theme of Seek and Destroy by Metallica, which earned a huge pop from the crowd and served as a huge dose of nostalgia to long-time Stinger fans. All four men took some savage bumps in this match, most either involving the coffin or the so-called "hardest part of the ring". It was at times a difficult match to watch, but one that was also impossible to look away from. 
Nick Wayne and Luchasaurus both made appearances to support their respective allies, with the large dinosaur man bizarrely walking off with Wayne over his shoulder. While Cage brought his unbreakable charisma from the moment he arrived, it was Swerve who looked like a huge star here from start to finish. Swerve has always been a talented performer, but All In showed how underrated he's been in the past. Despite this, however, the babyfaces scored the win.
Chris Jericho vs. Will Osprey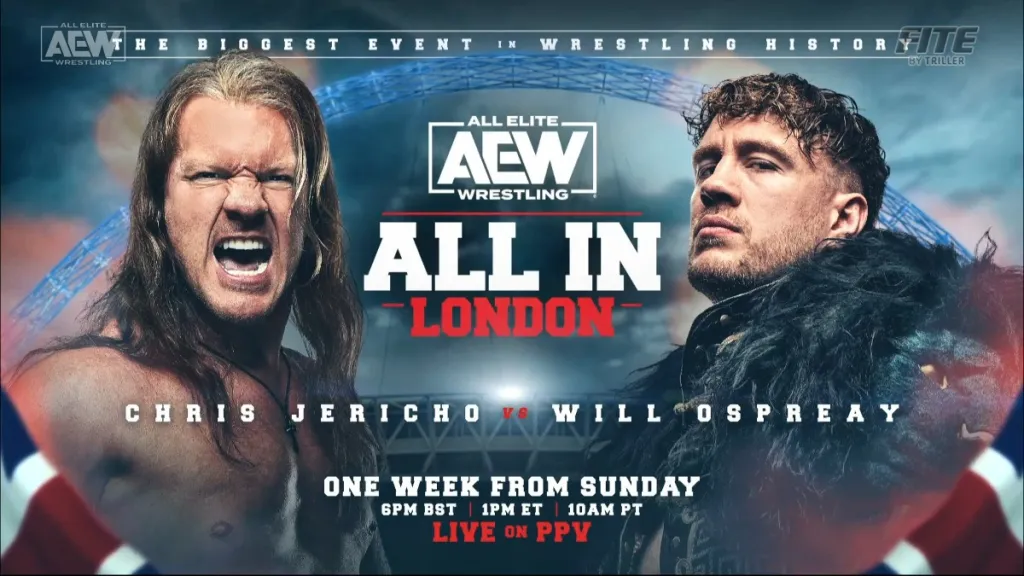 As darkness fell on Wembley Stadium and the night lit up with fireflies, the audience was treated to a live rendition of Judas by Jericho and the rest of Fozzy, to which they sang along raucously. Yet it was the hometown boy who was the crowd's favourite. While the Aerial Assassin and leader of the NJPW stable the United Empire is considered one of wrestling's biggest supervillains today, it was Jericho who sunk back into heel mode for this match. 
We expected to see Jericho get a measure of revenge on Don Callis but none was forthcoming. Although now it seems like the story is more focused on dissension between Jericho and his protege Sammy Guevara after Osprey defeated the Ocho in definitive fashion. 
The Acclaimed and Billy Gunn vs. The House of Black (c) for the AEW Trios Championships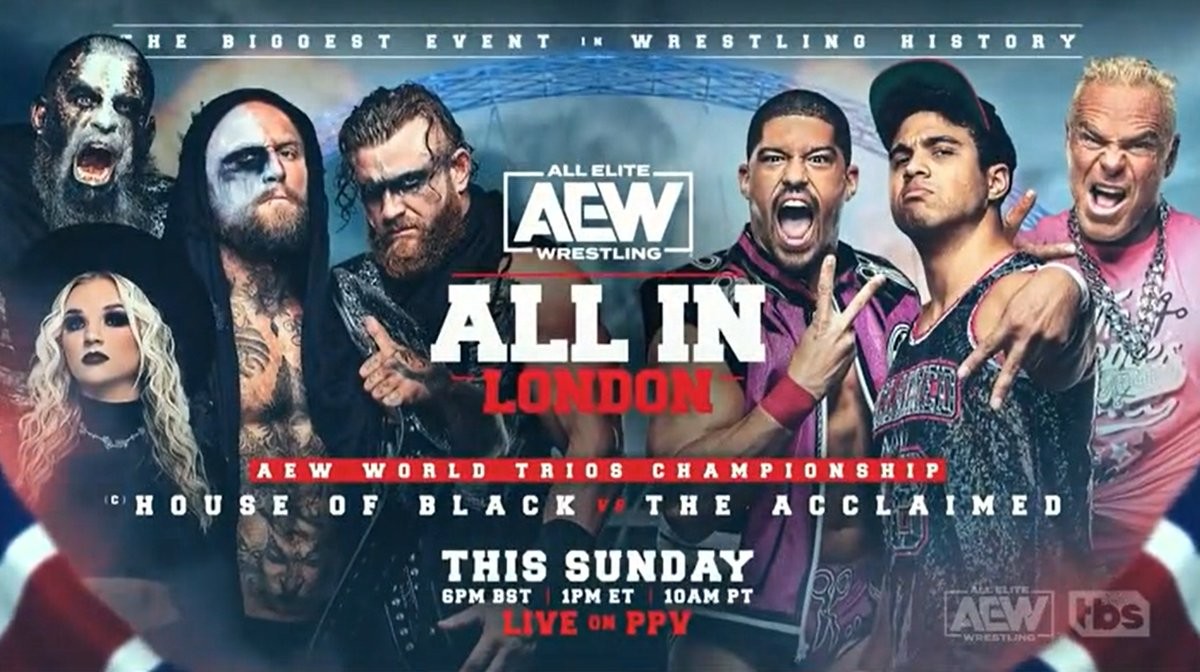 Max Caster delivered his signature rap on his entrance which no British institution was safe from. The match was relatively short and Billy Gunn was very much the MVP. Daddy Ass also refused to take any of Julia Hart's mind games with The Acclaimed treating her like the rest of the House of Black, before the three fan favourites went on to score the win becoming the new AEW Trios Champions. 
It was nice to see Billy Gunn score some gold in this era of his career but we're worried what it means for the House of Black. This creepy stable may now need to be rehabilitated if they're to look like a meaningful threat going forward, beyond stealing various garments from their enemies that is. The heels showed respect to the babyfaces after the match, handing over the belts with civility. 
MJF (c) vs. Adam Cole for the AEW World Championship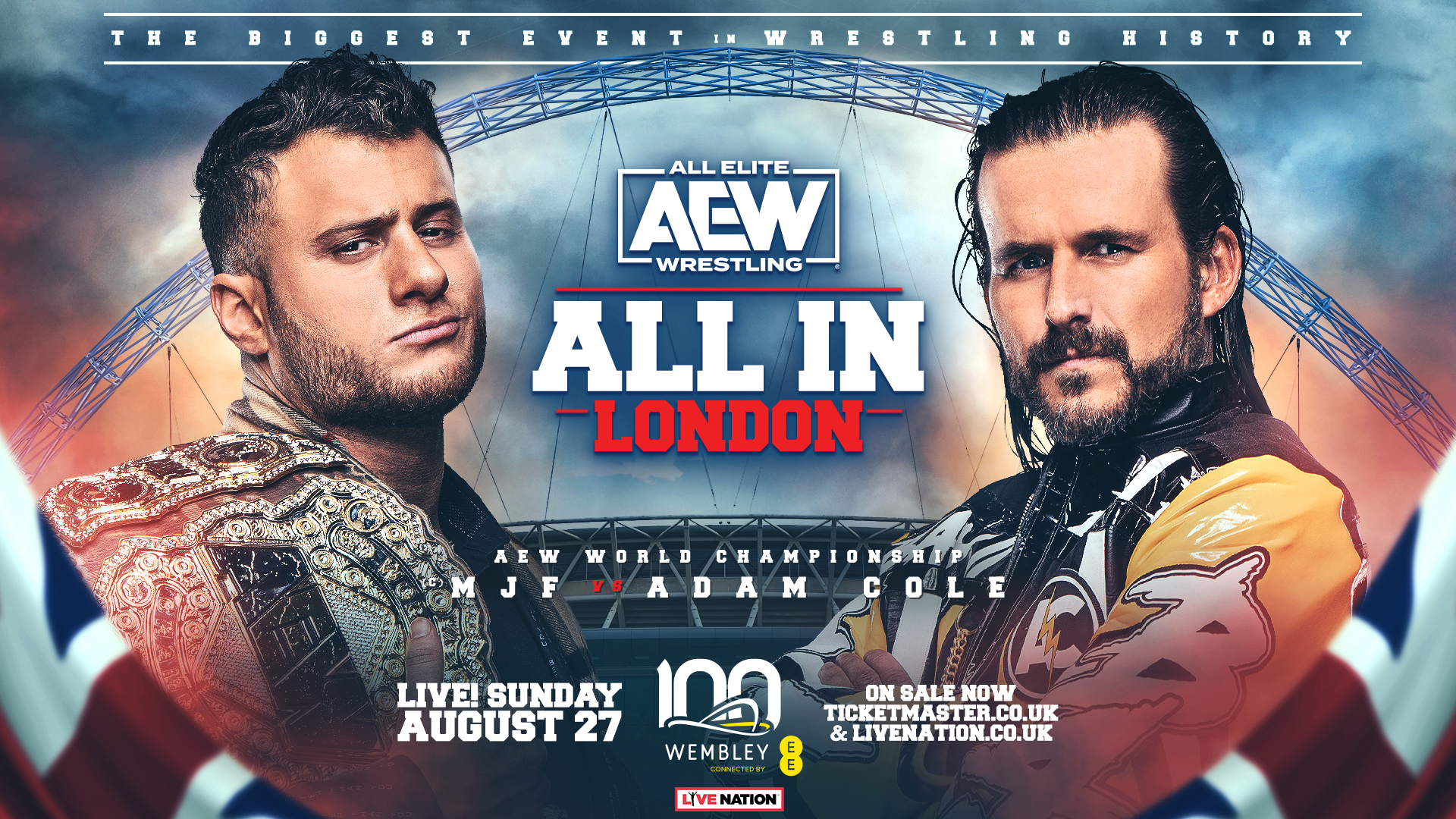 As we reached the main event, fans were divided on which of these two (mostly) career heels would betray the other during this encounter, and who we'd end up heartbroken for, while booing whoever caused the heartbreak. But no, AEW did something far more clever and engaging in what was one of the best main events AEW has ever had.
The newly minted Ring of Honor Tag Team Champions came to the ring separately, each sporting a bombastic entrance that played up to their respective personas as the Panama Playboy and the Devil. Yet the duo greeted each other warmly and both seemed committed to a clean fight and maintenance of their friendship above all else. In a show of unity, both Cole and MJF wore thier Better Than You Bay Bay shirts before starting to wrestle each other.
Things started slow with neither man wanting to hurt the other, but both wanting to win. However things soon broke down as the action – and the level of violence – became more intense. Throughout the match, both competitors teased sinking back into old habits, only ever cheating when they felt it was justified, such as in the utterly hilarious chair angle.
After an especially devastating Canadian Destroyer to MJF outside of the ring, Cole looked genuinely concerned about his friend/opponent's welfare, nearly taking a count-out victory. However, this would have meant the AEW Championship will have remained on MJF, forcing Cole into action. The initial match ended in a double pin draw, so both competitors agreed to keep fighting until there was a definitive winner who achieved the biggest pop of the night.
The match was gruelling and absolutely riveting from start to finish. If anyone harboured doubts about the star power of either Cole or MJF, this match would surely have expelled them. Roderick Strong interfered on more than one occasion, tempting Cole to brutalise MJF, cheat and win. But Cole resisted the urge. It's interesting to note, that this story started with Strong acting as a concerned friend, but he's now seemingly become the bad guy as the friendship between Cole and MJF turns genuine – at least for now.
MJF was also tempted to unleash his inner devil at times, agonising about using his diamond ring to finish Cole off, but he too resisted the urge to win dishonourably. MJF would eventually come out of the encounter the better man, retaining the AEW World Championship and making this story must-see TV, if it wasn't already. 
Cole was bitterly disappointed to lose and at first rejected MJFs efforts at reconciliation, as well as his ROH Tag Team Championship belt, before embracing his tag team partner as Strong and his Kingdom allies looked on menacingly. Cole and MJF would then reveal to the crowd that All In 3 will return to Wembley Stadium in 2024, shocking the world and earning a thunderous applause from the elated crowd before closing the show.
It's become clear that AEW has entered a new era after All In London and it will be exciting to see where the once so called up-start promotion goes from here. Next stop, All Out.