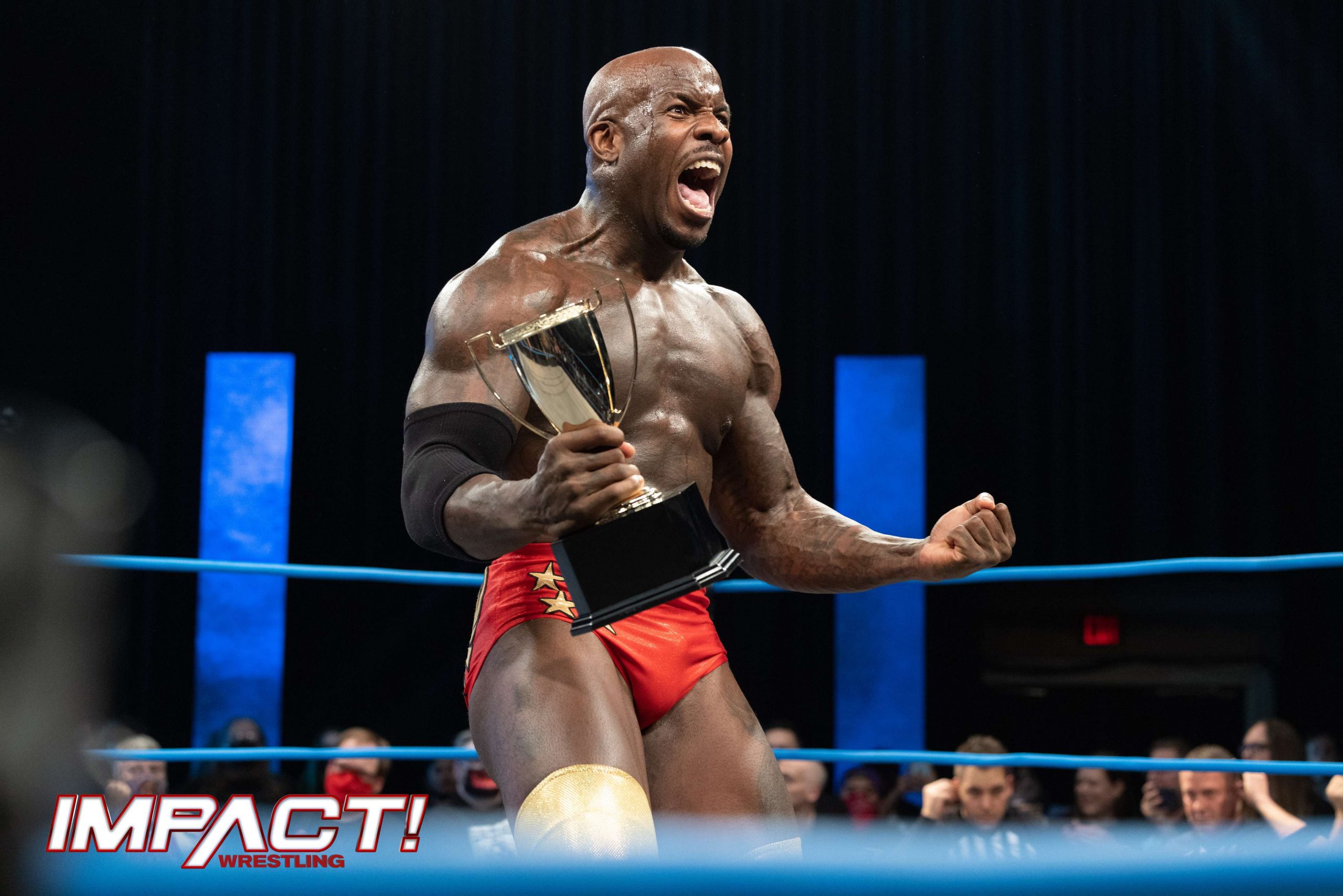 Wrestlesphere spoke to the former Impact Wrestling World Champion Moose about his career, legacy and Impact's upcoming UK tour.
Moose, also known as Mr. Impact Wrestling or more recently "The Wrestling God," has a storied career in Impact Wrestling having held both the World Championship as well as the now retired Grand Championship in his time at the company.
Along with some other popular names, Moose has become synonymous with the brand, having truly earned the nickname Mr. Impact Wrestling – whether he's been a heroic figure or as he's been more recently, a more dangerous version of the wrestler.
As Moose has been working well with others in recent times, such as Lio Rush, Brian Myers and Bully Ray, we asked Moose if he foresees their alliance ending in betrayal, as is so often the case with some of the names mentioned.
Moose said, "The first thing is to come out of Emergence victorious, after that we'll figure out what we want to do next, but we're taking it step-by-step. But I've learned that sometimes you need friends, or an ally to watch your back when the odds are against your. That's why you're seeing me do things a little different."
He continued, "The thought of screwing them or doing something bad against them hasn't crossed my mind, I'm turning over a new leaf where having allies around can watch each other's backs."
Surprised by Moose's answer, we asked the former champ if we could see a more heroic Moose emerge in the near future?
He said, "I don't know about heroic, I still have the same mindset and game plans about what I want to do, but it's not bad to have guys who share the same mindset having your back. That's what Brian and Bully are doing right now, we all have the same goals, so why not?"
Impact Wrestling UK Invasion
With the UK tour coming up, we asked Moose if he has any plans to get back into the main title picture, as it's been a while since he last held the Impact World Championship.
Moose replied saying, "Oh definitely, what's the point of being a wrestler if your goal isn't to become a World Champion? So, that's definitely something thats on my mind. I'm going to get my hands on it at some point."
"But I'm trying to figure out new ways of going about my business, taking it one step at a time and I'm sure that me being World Champion again is something that will happen when I decide to make it happen."
"I love the UK, there was a point in my life when I was there nearly every other weekend working with different promotions so I'm excited about coming back. I hope fans are getting their tickets as I hear tickets are selling out quick!"
We then asked Moose if he's ready for the UK fans who are known as some of the rowdiest in the world.
He said, "Oh that's always been the case, you guys are way more rowdy. I love that atmosphere and I can't wait to be a part of it."
Moose's Legacy in Impact Wrestling
As Moose calls himself Mr. Impact Wrestling, we asked him how he feels about Impact as a home to him in his career.
Moose said, "That's the reason why I've decided to stay with Impact. In the past, when you hear the words Impact Wrestling, maybe two names come to mind, AJ Styles, Kurt Angle, I'm working to become the third name people think of when they think about Impact Wrestling. Each day I feel like I take more steps towards that goal. I've been a loyal flag-waver for Impact Wrestling and I'm going to keep doing it."
Considering his ambition to become a name that's forever associated with Impact Wrestling, we asked Moose what does legacy mean to him.
He told us, "Legacy means a lot man, I mean there's a reason why I decided to stay here. We're growing every year, getting bigger and bigger. We just did a tour of Australia and we're doing another hopefully next year, now we're coming to the UK. Every year Impact does something that's not been seen for a few years and I'm happy to be part of that."
"I made my legacy all at Impact Wrestling and I can't wait to see how that all turns out when I finally unlace the boots and hang it up. Impact Wrestling has a lot of great wrestlers in our locker room like Eddie Edwards, Josh Alexander, Deonna Purrazzo, I mean she and the Knockouts have killed it in recent years."
Finally, we asked Moose if there are any former Impact or TNA legends he's like to wrestle who he hasn't before. One name was given by the former champ.
"The one that comes to mind and it's insane that we've never done anything together, I don't think we've even been in a ring with each other, is Eric Young. He's for sure an Impact/TNA legend who made his return not so long ago. We've both been here for years and never stepped into the ring before. Hopefully, now he's back we can change that."
The Impact Wrestling UK Invasion begins on Thursday, October 26th at the O2 Academy in Glasgow, before heading south to the Walker Activity Dome in Newcastle on October 27th, then finally heading to the HMV Empire in Coventry on October 28th and the 29th.