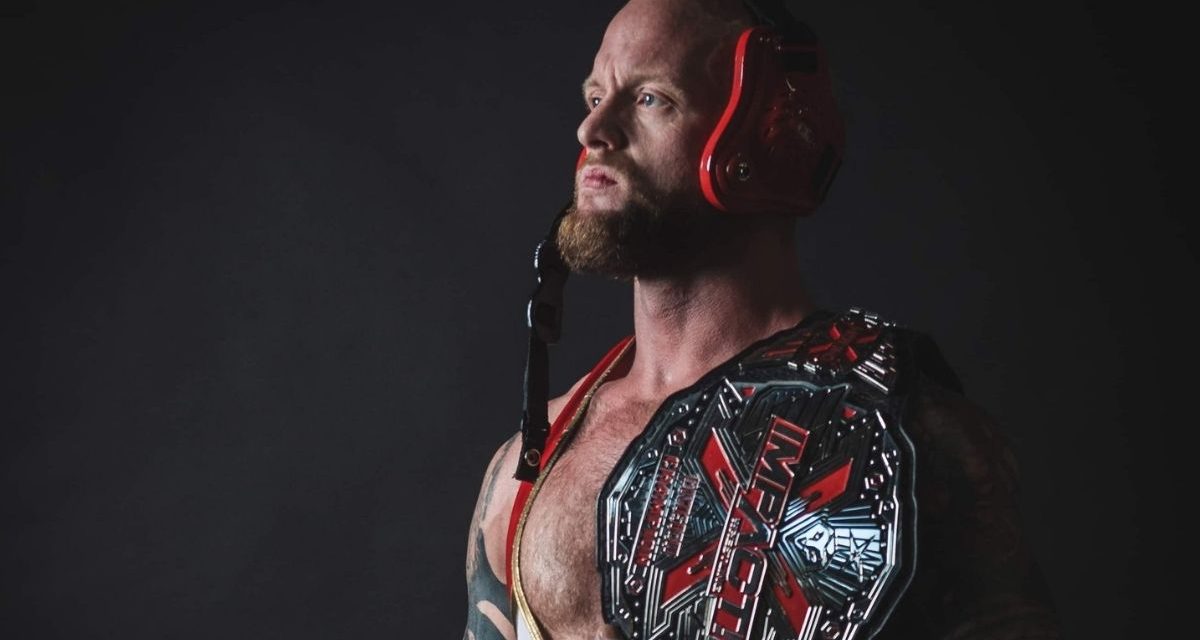 WrestleSphere sat down with the Impact Wrestling World Heavyweight Champion – and Walking Weapon, Josh Alexander ahead of his match with Rich Swann at No Surrender (2023).
Josh Alexander is now the longest-reigning Impact World Champion of all time. We asked Josh how this feels now he's reached this incredible milestone. He told us:
'Grateful and excited are still two very prominent feelings, but it just gets more surreal the more title defences I have, the more marquee matches I have on pay-per-view. The pressure gets bigger and bigger every time, it just keeps snowballing, I know I said that to you when I beat Christian Cage at Bound for Glory, when it was taken away from me – but I never imagined I'd regain it, then I did! So, I could have never predicted a run like this. I'm just very grateful to have these opportunities to show what I can do.'
No Surrender
Josh Alexander's next opponent is fellow fan-favourite Rich Swann, who is a former Impact World Champion himself. There's a mutual respect between both men. In the past, Josh has feuded with opponents like Bully Ray, Moose, and Eric Young. We asked Josh how facing a friend is different from facing an enemy for his title. He said:
'I have an immense amount of respect for all these people. I can't take away the fact that Bully Ray is a two-time Impact World Champion, I have to respect that as a fan and a pro-wrestler. But when I get in the ring with someone like Rich Swan, someone that is my friend, someone I've grown close to in my time here, I mean, the guy was turning out matches and performances that were captivating fans like nobody else.'
'He finally won that championship and it was taken away from him by Kenny Omega. It wasn't just taken from him, it was taken away from the whole locker room during that time. It broke Rich, he's only just getting back to the point where he was. It makes things worse knowing I've got to go toe to toe with a friend, especially after all that, but it's all about the World Championship. He deserves his shot.'
We asked Josh if he's concerned that Rich Swann may be "hungrier" than him, and if the wrestler challenging for the title has more to prove. Josh said: 'I think the longer my run goes, the closer and closer to we get to the moment it comes to an end. I know that could happen anytime. I think Rich is very hungry to show he can be the old Rich Swann – but I'm as hungry as I've ever been heading into No Surrender.'
Unfinished Business
Josh last defended his Impact World Championship against Bully Ray at the Hard To Kill pay-per-view in a Full Metal Mayhem match. He retained the title after tapping out his opponent in a hard-hitting hardcore fight that saw Josh's family also get involved after they were targeted by Bully. We asked Josh if he has unfinished business with Bully Ray, and if the former two-time champion will expect a rematch.
Josh said: 'I think I proved something in that match-up. My family, my wife and child, all the things that were incorporated into Bully's tactics, they aren't my achilles heel, they're my strength. They make me even stronger, they're the ones pushing me along and supporting me. I feel like I've taken that from Bully now, so he's going to have to step back from that tactic. I went into that match knowing he was made for Full Metal Mayhem, he's perfected it. But I was champing at the bit to go in there and beat him at his own game. I did that and made him tap out, and I think that image is going to be in my head for a long time. I also know it's going to be in Bully's head for a long time, so I expect he'll want some redemption at some point down the road.'
Josh Alexander won the Impact World Championship after choosing Option C, something that involves vacating the Impact X-Division Championship in exchange for a an opportunity to challenge for the World title. This is a risky strategy, as it means Josh had to abandon his current belt, with no guarantee of winning the other. However, the gamble paid off and Josh eventually became World Champion. We asked him if he'd like to hold both belts, and if he has unfinished business with the X-Division Championship.
'I want to be the Swiss army knife of pro-wrestling, so I like to think I can hang with any style and any opponent. Eventually someone will have my number for this belt and I'll need to think about what happens in the future. I have established myself as the longest reigning Impact World Champion of all time, and one of the longest reigning tag-team champions of all time (along with Ethan Page), but it itches at me that I can't say the same for when I was X-Division Champion. I know there's also the Digital Media Championship now too, but I also want to go down in history one day as the longest-reigning X-Division Champion. Whether I do so while holding this (points at the World Championship), or when I lose it remains to be seen.'
Josh Alexander: The Face of Impact Wrestling
In his time at Impact Wrestling, Josh Alexander has become the face of the company and is considered synonymous with the brand. We asked Josh how he feels about this and how has Impact Wrestling been as a home to him. He said:
'Even before I won the World Championship, the whole face of the company thing had already been put on me. Impact Wrestling was the first place that gave me an opportunity, I'm forever grateful for that. This place is home, the people here are family, I think our locker room stacks up against any other locker room in pro-wrestling. So, for me to travel the world as the mascot of Impact Wrestling, I say slap that Impact bumper sticker on my back and let me get in that ring and represent this company.'
Finally, we asked Josh if there are any TNA/Impact Wrestling legends he's love to wrestle one day. He told us: 'When you think of TNA, you think of AJ Styles, he carried this company to heights it has never seen. When I think of TNA I think of AJ. So when people think of Impact Wrestling, I want them to think about Josh Alexander. I'd love to one day see TNA vs. Impact, AJ vs. Josh, if that could ever happen. Knock on wood!'
Check out No Surrender (2023) on February 24 at 7:30pm ET on IMPACT Plus and YouTube FITE TV on the February 25 at 12am GMT.