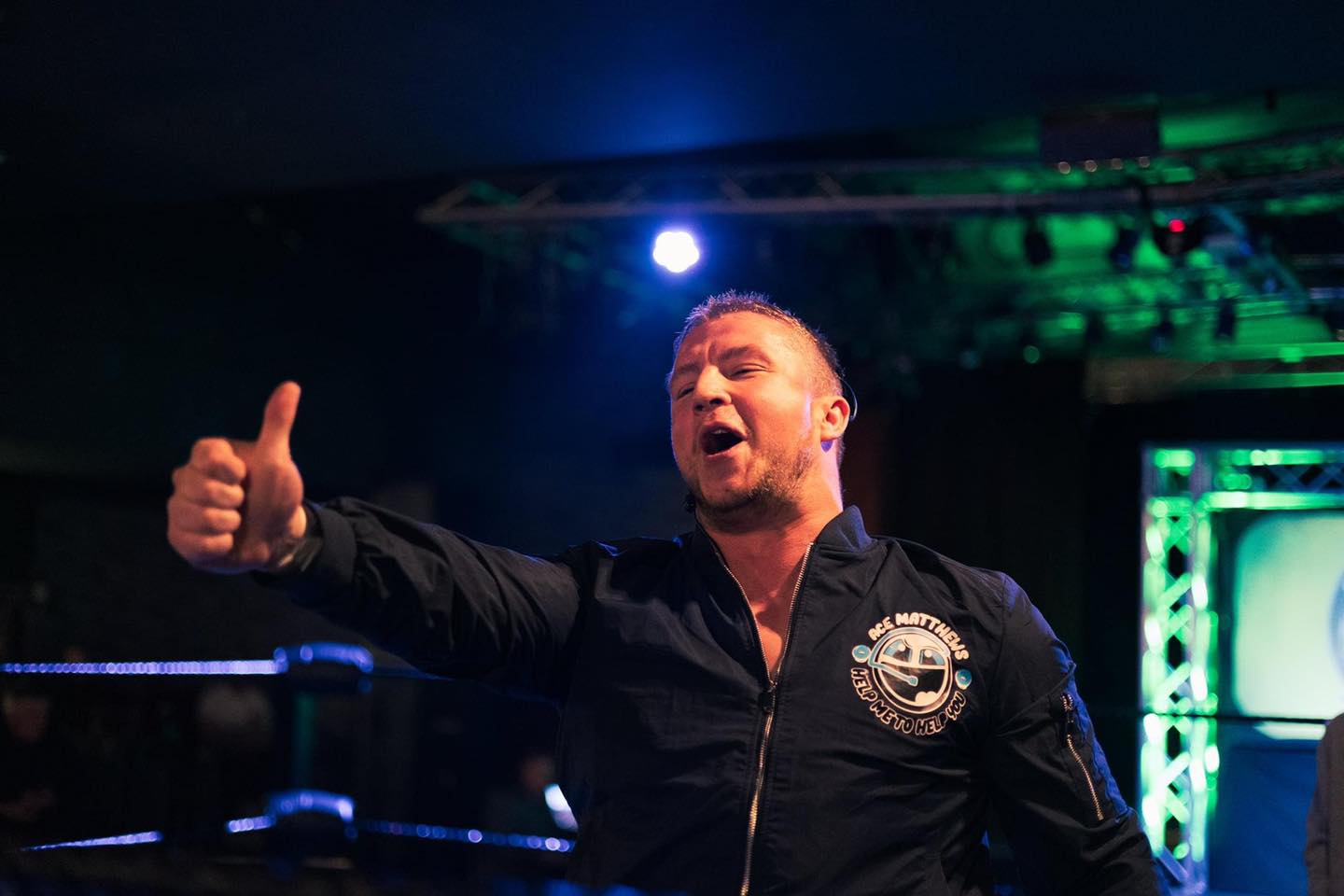 Ace Matthews, the 'Tidal Chief' is a professional wrestler currently working for Tidal Wrestling who are based in Huddersfield. Ace told us all about his love of wrestling and career on the UK indie scene so far. 
We started by asking Ace about his time in Tidal Wrestling and how he became the current champion, as well as the self-proclaimed 'Tidal Chief', he said:
'I've been for years, but I was officially recognised as the Tidal Chief at the end of last year. I've been working for Tidal Pro Wrestling for many years, on and off. I started tagging with Dave Graves who has since become a Tidal Champion and retired, but since lockdown I've been a regular fixture there.' 
Ace continued, 'Then in the final show under the previous owners, I was in a ladder match for the number one contendership – which only had one ladder. The ladder was about 2-3 feet tall and I skilfully managed to put myself in a position to catch the contract, which landed right where I predicted it would, straight into my hands. I then cashed in against Eddie Philips and was crowned the champion and the Tidal Chief.'
As the British indie scene struggled in the wake of the pandemic, Tidal Wrestling has managed to rebuild and become one of the must-see promotions in the North of England. We asked Ace Matthews about Tidal Wrestling, and if it feels like a home to him. He told us:
'Tidal recently came under new ownership and the new owners have dealt with me really well. I've had some really good communication with them and things seem promising. Our first show back was sold out, it was absolutely packed with some cool new changes. It was nice to be back again and have such a positive relaunch show.'
We were keen to learn about Ace's love of wrestling and how this led to a career in the industry. Ace told us about following wrestling as a teenager and how he broke into the business. 
'As a kid my first love was football, I don't know exactly where I discovered wrestling but I remember it being something I talked about with my friends. I think I discovered WCW on Channel 5 in the UK and WWE on Sky. It was that era, the late nineties when lots of people our age started to come in. It was the middle of the Attitude Era so it was a really good time to get into wrestling! The big feud for me was the Rock and Triple H, then I fell out of it a bit around the time Brock Lesnar arrived.' 
He continued, 'Then I started thinking about how amazing it would be to be a wrestler but I then thought, just look at these guys, nobody can look like that. How would you even become a wrestler? Then I went to university and met some other huge fans and fell back into it. I'd stay up watching it with my friends, going to live events and I've never looked back since then.' 
'I did a bit of acting back then with an amateur dramatics group and there was a girl there who's brother was a referee, that's AJB if you're in Hull. She then put me in contact with him. Then he said there's a  wrestling school in Hull and invited me down. I ended up going to a show with him and started training nine years ago when I was around 23. I then did a few training sessions with Nathan Cruz in New Generation Wrestling before going to work in America and started training at Pro Wrestling Revolution before moving back to the UK.' 
We then asked Ace about his aspirations and what he'd like to try once someone finally topples the Tidal Chief. He then told us:
'I'd love to do a tryout, I've never done a tryout for WWE or AEW, it would be great to have an opportunity, even if just to see that next step, that next level. Just to find out where to go as a wrestler with this character. I'd like to branch out, I'm doing quite well in the North East of England, but it would be cool to branch out a little bit more.
I've had a few setbacks, things happened like I snapped my achilles. But now that I am the Tidal Chief I can start getting my name out. I think I could do quite well in Progress, especially seeing how well Gene Munny does there, he's absolutely incredible. I'd love to show off this character, I think he'd annoy and entertain a lot of people!'
Finally, we asked Ace about how he built such a mesmerising heel character, how it started, and who are his inspirations in the industry today.
'When I first started I was a good guy, I wrestled as a babyface but I didn't feel like I had anything massively unique about me. Then the heel character came from cutting promos with Nathan. I cut this one promo and he said, "You're just so dislikable." People like to boo me!'
'The crowd wants someone to shut me up, so whoever I'm wrestling against, it just creates that immediate dynamic. I think MJF and The Miz are incredible, just the way they carry themselves and hold their character through the matches. They are just them and know how to get those genuine reactions. That's what I love about this character.'
You can check out Ace Matthews defend his Tidal Wrestling Championship against Scotty Rawk at Goblins and Golems on Sunday, 26 February 2023 at the Parish in Huddersfield.
Listen:
Watch: