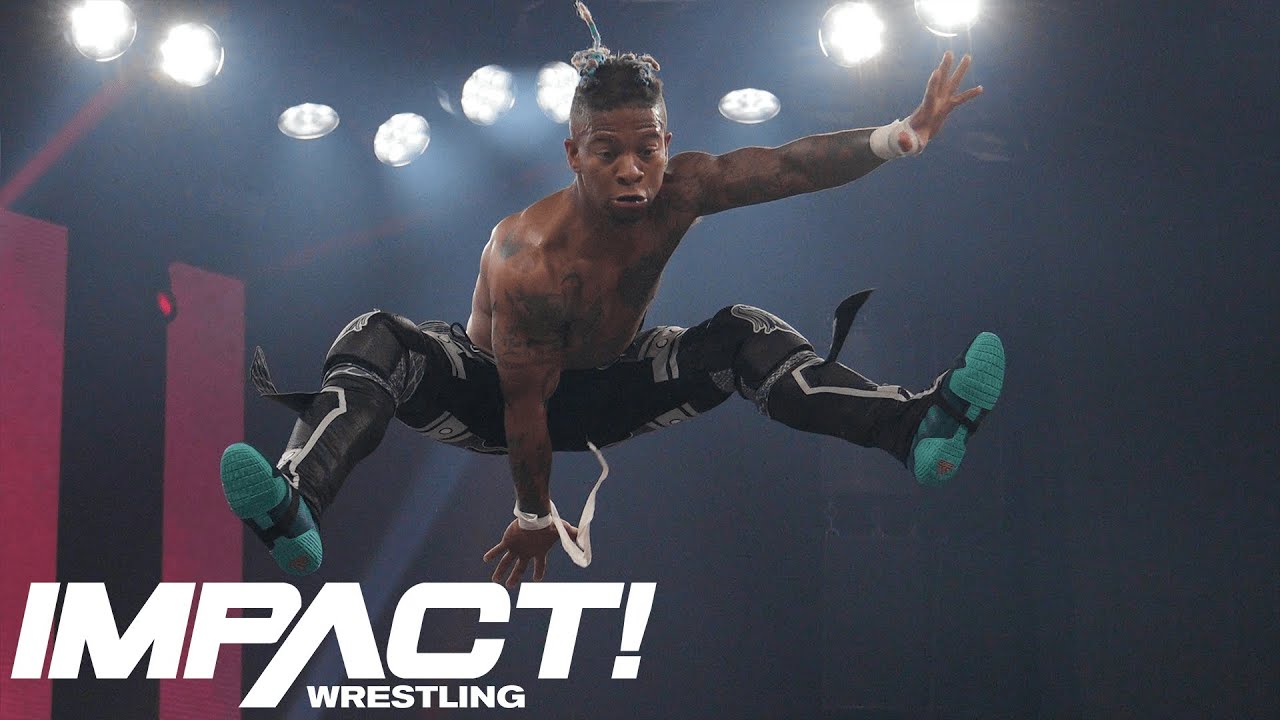 Lio Rush talks about arriving in IMPACT Wrestling, his growth as a performer and believing in himself, also his love of vegan sausage rolls in the UK, and his upcoming match against Chris Sabin at Slammiversary for the Impact X Division Championship.
Lio Rush has had an extensive and impressive career for the age of 28; Wrestling with Combat Zone Wrestling, Ring of Honor, WWE, AEW, NJPW, and now Impact Wrestling. He is also a musician, releasing his debut single in July 2019.
When asked to define 'success' and if there was a difference between wrestling and music, or if they are one and the same, Rush stated:
"They definitely are one in the same. It's amazing. I love doing both. I love finding the time to incorporate everything that I love. I think that is what defines success. To me, it's doing the thing that you love and living sustainably off of it. That defines success to me. It's not about how much you make, what you've done, or where you've been. I think success is being able to live comfortably off of doing something that you love consistently."
Having a career in both music and wrestling, plus having a family, it can be difficult to find a work/life balance. To Lio Rush, there is a balance, however chaotic it may be:
"I try to take a very abstract approach to everything that I do, because things don't work the same for everyone. I am very business minded. My parents were entrepreneurs. I grew up literally watching my parents do what they love, without having to answer to everybody. They were their own bosses, their own brand, and their own business, so I have definitely picked up things that help me with my life and my career. I've done a fair share of things myself that I've been so grateful to have learned at the age of 28 years old. I feel comfortable at this point to run my life like a business because I am the face of my own brand. It's hectic, but there's support there. It gets easier when you know exactly what it is you want to do. I feel like things can get complicated and stressed out when people are trying to be an entrepreneur, but don't really know what they want to do. I feel like with me, at this point in my life, knowing exactly where I want to go, who I want to be, and what I want to do, and short-term and long-term plans, feels calming. It's a lot of work but I enjoy it, because I love it."
Lio Rush released his first single in 2019, but there is one particular song that has seemingly connected with people in a different way, titled 'I Wonder'. His musical style is not boxed into one particular genre:
"So many people ask me about that song and tell me that they love that song. Before that, I dropped an EP that consisted of 5 tracks that kinda had different genres within them, just a little mix tape to get people to see what they like, and what I should be doing. I was new, so I was trying everything out. When I created 'I Wonder', I did strip things away; kinda have things come more from the heart rather than just try to make a song out of thin air. That track was pretty cool. I remember to this day writing that song in my kitchen, on the floor. So yeah, that's pretty cool that people still talk about it to this day."
As a trained cinematographer, Lio puts a lot of weight on the visual aspect of his brand: "It's a very important part of it. It's how you want things to be portrayed, how you want people to feel while they are watching it. It's very important to me. The visual aspect is probably the core of the brand."
When asked about how he feels about joining Impact Wrestling, Rush had this to say: "This stage of my career, I feel like I have definitely reached a point where I am exhausted by not being me, 100%. This is a special time. I feel the most relaxed I've ever felt in my life. I feel calm. I feel confident. I feel like I'm moving in the direction I'm supposed to go in. I'm super happy to be at Impact, because I feel like it's the perfect opportunity for me to just simply be me. To not care what other people think; because you shouldn't. Nobody should. So yeah, I'm excited."
What does being 100% Lio Rush look like?
"I think to show the worst parts of me too. I think that's just being yourself. Just showing people that you're human. It doesn't matter who you are, or what you've done; at the end of the day, we're people, we're human beings. If you're not afraid to show the worst parts of you, and the best parts of you, how are you truly just being yourself 100%? That's the season that I'm in and I feel like I've done that over the years. Yes, people have seen everything that I've done in the wrestling business on a very positive level. but they've also seen the worst parts of me. I'm like some crazy wrestling Hollywood kid that has grown up, and everybody's seen me go through all this stuff, both negatively and positively, but at least they've seen it, and they've seen the gruff. They've seen the persistence, me believing in myself, and vocalizing the things that mean the most to me; because there are people that look up to me, and I have a viewpoint. I would like to lead those people, inspire them and motivate them to just be themselves. Just be yourself."
Wrestling is a very demanding career, both physically and emotionally, and Rush encourages taking breaks to avoid burnout:
"An off-season is extremely important in this business. I can't stress that enough, I literally can't stress that enough. This business can be extremely stressful. It can be extremely dark, which I don't fully think the fans take into consideration. I feel like the peer pressure from the wrestling fans, and wrestling in general, can force people to continue to push because they feel like something different is gonna happen. If you're burned out, you're burned out. If you can't think anymore, you can't think anymore. Everybody needs time away, everybody needs to reset, everybody needs a break, and everybody needs a spiritual, emotional, and physical journey and break. Even if it's for a week, even if it's for 6, 7, or 8 months off if you want to. I've done it – not intentionally, I've gotten hurt and had to get surgery, but I think having the break away from it is very important. So if you can, find that time. You don't have to push yourself past the point of exhaustion and depletion. So, take a break. It's important."
Slammiversary promises to be an event of epic proportions, including Lio Rush v Chris Sabin for the Impact X Division Championship. For Lio Rush, he isn't taking it lightly:
"I know he's gonna go into this match a little more pissed off than usual. He's probably doing a lot of work right now and I have to prepare for that. I'm not taking Sabin lightly. I know I knocked a little chip off. I know that I damaged the mental part of his game, but I do know that he might be a little stronger. He might be pushing a little bit more weight. Leading into this, I'm preparing myself and I'll be ready."
One thing Rush knows for sure is that he can't wait to return to the UK.
"I cannot wait to return to the UK, so that I can get some vegan sausage rolls. I cannot wait. So please everybody, if you see me, get me a vegan sausage roll. Please don't forget the sauce that comes with it, because it's very good. I can't wait to see you guys again. I can't wait to wrestle in front of you guys again and I can't wait to just be back home. England is a second home for me so I can't wait to be back."
Listen:
Watch: