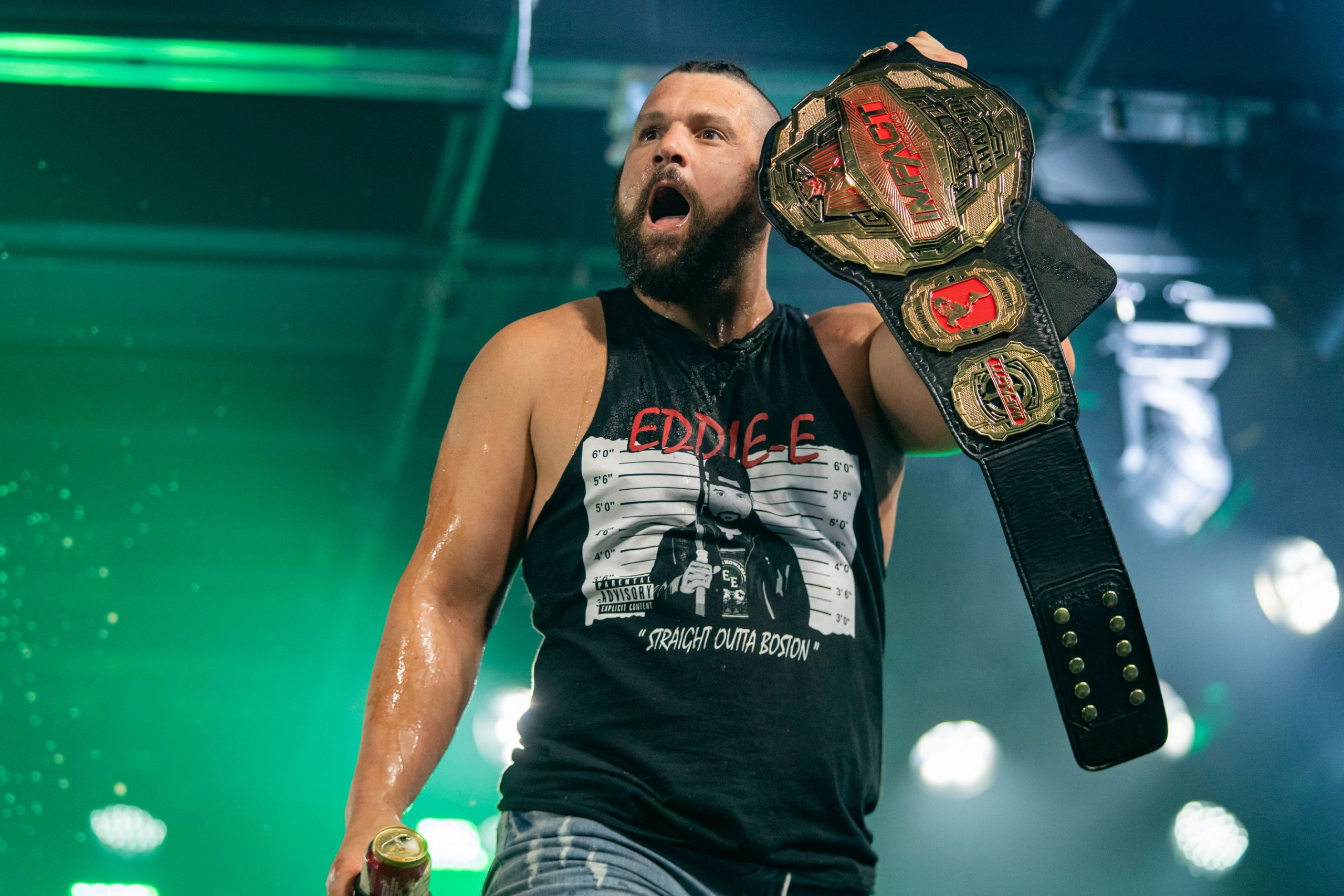 Eddie Edwards is a mainstay of Impact Wrestling where he is a former two-time Impact World Champion and two-time Impact X Division Champion as well as holding various other titles throughout the industry. Wrestlesphere sat down with Eddie to discuss his past, present and future career.
As Eddie is currently embroiled in a feud with "The French-Canadian Frankenstein" PCO, after their alliance became a rivalry following the implosion of Eddie's faction Honor No More. Tension between PCO and Edwards was one of the main catalysts for the groups destruction, although, Edwards has maintained his alliance with Kenny King, another former HNM member.
'PCO is one of a kind, he's a monster, the things he does inside that ring, it's mind-blowing. We started off as teammates but things didn't work out, now, here we are going toe-to-toe. I've numerous ways to end him, even burying him in the desert, but I'm enjoying it, I'm enjoying beating up PCO.'
Honor No More
We asked Eddie if he considers Honor No More a mistake, and if he and his previous allies are any closer to achieving what they want after creating – and disbanding – the faction.
Eddie said, 'I don't think it was a mistake, if I could do it all again I would. We just didn't accomplish the goal that we wanted, which was to be me winning the World Championship. We got me that match, that was the goal. As the leader of the group, I dropped the ball, I didn't win that title but in no way was it a mistake. Things happen and people move on, that's just the way it is.'
We then responded to Eddie by asking him why a former two-time Impact World Champion and two-time X-Division Champion would need the help of his stablemates, as we've seen him win both belts before without any help.
'For sure, I think that's going to be my next goal. I now know what I need to do differently. I'm confident in what I can do. For Honor No More it was also about the group of us, a group of friends and likeminded individuals who have all been screwed over by professional wrestling.'
'There was those guys coming from Ring of Honor, left out in the cold, and me being overlooked and disrespected by Impact Wrestling by not getting a title shot against Kenny Omega or Christian Cage when they were the Champions. I bled Impact Wresting, I was the heart and soul of the company, but you can only take that abuse for so long, things had to change. By bringing in Honor No More, that forced things to change, for my career and within Impact Wrestling.'
Impact Wrestling Rebellion
We then asked Eddie about the upcoming events on the Impact calendar such as Sacrifice on March 24th, Multiverse United alongside New Japan Pro Wrestling on March 30th (in Los Angeles over WrestleMania weekend) and the company's next big pay-per-view event, Rebellion on April 16th, 2023.
'I'm in an eight-man tag match at Multiverse United in Los Angeles against PCO, Sami Callahan, Kratos, Joe Hendry and more. I'm looking forward to that, the shows on that weekend are always something different. I mean last year I got to wrestle Ishii, which is something I've always wanted to do. Now I get to check that off the bucket-list.'
'As for Rebellion, we'll need to see where the cards fall and how Sacrifice and Multiverse United both play out to know what I'll be doing. This war with PCO is probably not ending anytime soon, especially now we know Kenny King will be facing PCO at Sacrifice. Kenny's got my back and I've got his, so we'll see what happens.
'Rebellion's one of our biggest events of the year and we're in Toronto. We're slowly adding these international trips which means we'll probably be returning to the UK at some time soon – I've heard rumblings but no more than that. I know we're all hoping for it.'
Impact Wrestling's growth
We also asked him about Impact's new relationship with DAZN as an international partner and platform for their content, as well as Impact Plus, the company's YouTube subscription service that makes Impact Wrestling more accessible than ever before.
Eddie then told us, 'Putting it up on YouTube, DAZN, the more accessible it is, the better it is not just for us, but for the fans. It wasn't always easy to tune in and find it, whether it's fans coming back, or new fans looking to give Impact a shot, it's never been easier. They can tune in and see what we're all about and I'm confident that once they do they'll be hooked.'
We then picked Eddie up on something he said about being the heart and soul of Impact Wrestling. The promotion has been his home for a very long time, so now that Honor No More is over, we asked him how he truly feels about the company.
He said, 'There's a reason why I just resigned with Impact and why it's been my home for nearly nine years. It's because, since day one, I've always been treated with respect and enjoyed the relationship I've had with the locker room and the office, even the higher ups at Anthem. They treat us well and there's an open door when it comes to communication, we have that back and forth and we all feed off each other. I'm happy to call Impact my home, I've always been happy to call it my home.'
'I want to help Impact Wrestling succeed, I want to be part of the crew that takes Impact to the next level, that's always my goal. We feel a buzz, that excitement in the back when the company does well. It makes us want to keep going forward, so when more eyes appear on our product we know it's mission accomplished. Wrestling is a sickness, we have it in our blood and our souls, we can try to shut it out but it's always within me.
Check out our interview with Eddie Edwards in full on our YouTube channel.