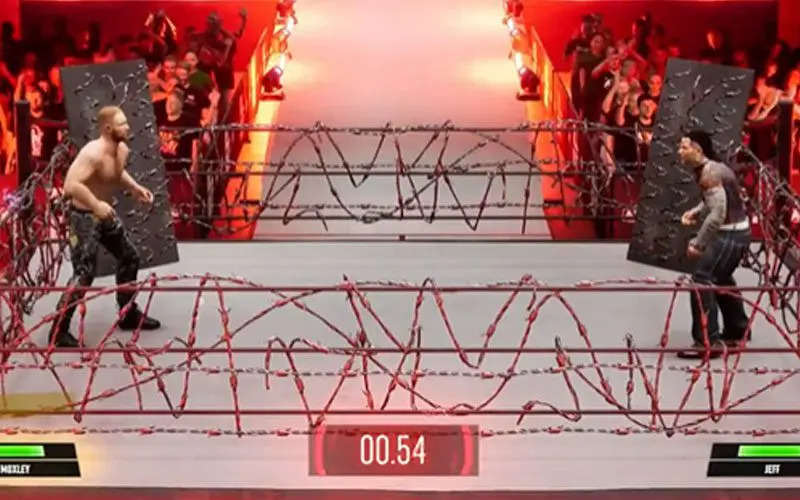 THQ Nordic GmbH and AEW today unveiled the extremely punishing and often controversial Exploding Barbed Wire Deathmatch mode in AEW: Fight Forever. Are you ready to fight for your life in the Fight Forever ring? Watch the new trailer here:
Pre-order AEW: Fight Forever now on the following:
Xbox:
Sony PlayStation:
AEW: Fight Forever Standard and Elite Editions: PlayStation
Nintendo Switch:
AEW: Fight Forever Standard and Elite Editions: Nintendo
Steam – Wishlist:
AEW: Fight Forever Standard and Elite Editions: PC-Steam
Scheduled for release on June 29 across console and PC, AEW: Fight Forever's nostalgic arcade feel already has wrestling game purists fantasizing about their finishers. AEW: Fight Forever presents fans with their first chance to pull off wrestling moves only seen on the wildly popular AEW programming. Online co-op wrestling is going completely next level with Tag-Team matches that feature sequences of team maneuvers performed with simple commands. Game modes include Ladder Match, Exploding Barbed Wire and Casino Battle Royale along with a stacked roster of popular AEW wrestlers. Fans can also enjoy career mode, wrestler customization, signature AEW arenas, and some good ol' fashioned unsanctioned fun.
The AEW: Fight Forever ($59.99) "Matt Hardy" digital pre-order is available worldwide for PS4™/5, Xbox One and Series S/X, and Nintendo® Switch. It is also available at participating retailers throughout North America including:
The AEW: Fight Forever Elite Edition ($79.99), which will be available for both console and PC:
Early Access (24-hour/available Wednesday, June 28 – only for consoles)
Matt Hardy and Broken Matt Hardy roster additions
Six more amazing AEW in-game roster wrestlers: Dax Harwood, Cash Wheeler, The Bunny, Keith Lee, HOOK and Danhausen
PLUS four mini-games inspired by the biggest wrestlers in AEW
Follow @aewgames for AEW: Fight Forever for updates, and don't forget to tune into All Elite Arcade on Twitch every Wednesday at 11 a.m. EST.
For more info visit: https://aew.thqnordic.com/
Visit AEW on Twitch: http://twitch.tv/aewgames
Follow AEW on Twitter: https://twitter.com/AEWGames