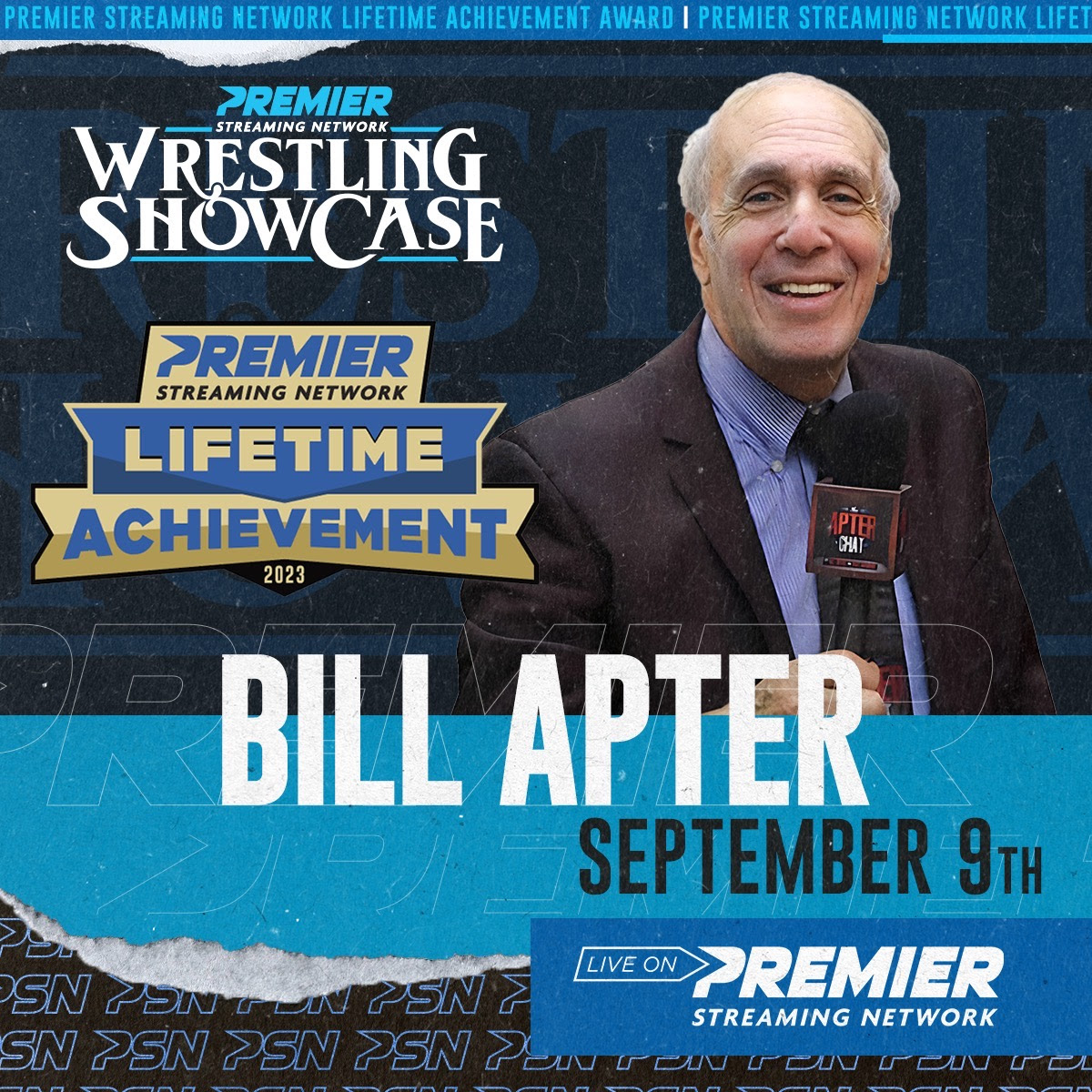 For over 50 years, few have dedicated their lives to covering the world of professional wrestling like Bill Apter. From writing, to editing, to photography, publications like Pro Wrestling Illustrated, The Wrestler and Inside Wrestling greatly benefited from Apter's hard work and passion for the sport. And in-turn, Apter's efforts helped launch the careers of numerous wrestling superstars and helped populate professional wrestling long before the days of cable and the internet. On September 9th, in front of a raucous crowd in Metuchen, New Jersey, at The Wrestling Showcase, Bill Apter will receive the first-ever Premier Streaming Network Lifetime Achievement Award.
"Premier Streaming Network is dedicated to curating wrestling history, and nobody has contributed more to that cause than Bill Apter," said Josh Shernoff, Vice President of Programming and Creative Development at PSN. "Bill has captured some of the most iconic images and told some of the biggest stories in wrestling history, and he is synonymous with the magazines that educated audiences worldwide about various territories and wrestlers they wouldn't have otherwise known about. Bill Apter has dedicated his entire life to professional wrestling and is beyond deserving of every honor the business has to offer. Personally, I owe a big part of my career to Bill's guidance and friendship. It's a huge honor for me to present Bill with the first-ever Premier Streaming Network Lifetime Achievement Award."
"I am absolutely thrilled that someone I mentored years ago is now one of the leaders at Premier Streaming Network, a company that has achieved remarkable success, doing gangbusters," said Apter. "Being bestowed with this recognition for my career by Josh and the rest of the team, in the presence of so many wrestling fans in person and a global audience watching live on PSN, is truly an immense honor. I am filled with excitement and can't wait to be at The Wrestling Showcase."
"Bill Apter exemplifies the passion for professional wrestling we share here at Premier Streaming Network," added Paul Owen, President at PSN. "He's dedicated his life to preserving, curating and celebrating wrestling's history and at Premier Streaming Network's Wrestling Showcase, we get to show him what his work has meant in laying the foundation for what we do today."
Along with the presentation of Premier Streaming Network's Lifetime Achievement Award to Bill Apter, The Wrestling Showcase will feature some of the best independent talent from organizations that can be seen on PSN, such as House of Glory (HOG), Combat Zone Wrestling (CZW), Wrestle Pro, Battlefield Pro Wrestling (BPW), East Coast Wrestling Association (ECWA), Great Lakes Championship Wrestling (GLCW), Atlantic Pro Wrestling (APW), Three Legacies Wrestling, Catalyst Wrestling, Figure Wrestling Federation (FWF) with more companies to be added.
Additionally, The Wrestling Showcase will host a match to crown the first-ever women's Premier Streaming Network Champion and the first-ever men's Premier Streaming Network (PSN) Champion. Last year's Wrestling Showcase tournament winner Matt Cardona will compete in the men's match against a soon-to-be named opponent. And on the women's side, Steph De Lander will take on Rachel Ellering.
Tickets to Wrestling Showcase can be purchased here, and fans who purchase first or second row seats, will also receive access to the Squared Circle Expo, an interactive fan fest featuring autograph opportunities, meet and greets, and unique stage shows, which will be taking place prior to the event.
Premier Streaming Network is available on a full suite of platforms and devices including Web, iOS and Android mobile web and desktop, Chromecast, Android TV, Amazon Fire TV, Apple TV, Roku, and many Smart TV's.
To keep up with all the latest Premier Streaming Network announcements, including live event schedules, follow PSN on social media:
Twitter: @WatchOnPremier
Facebook: Premier Streaming Network
Instagram: @PremierStreamingNetwork