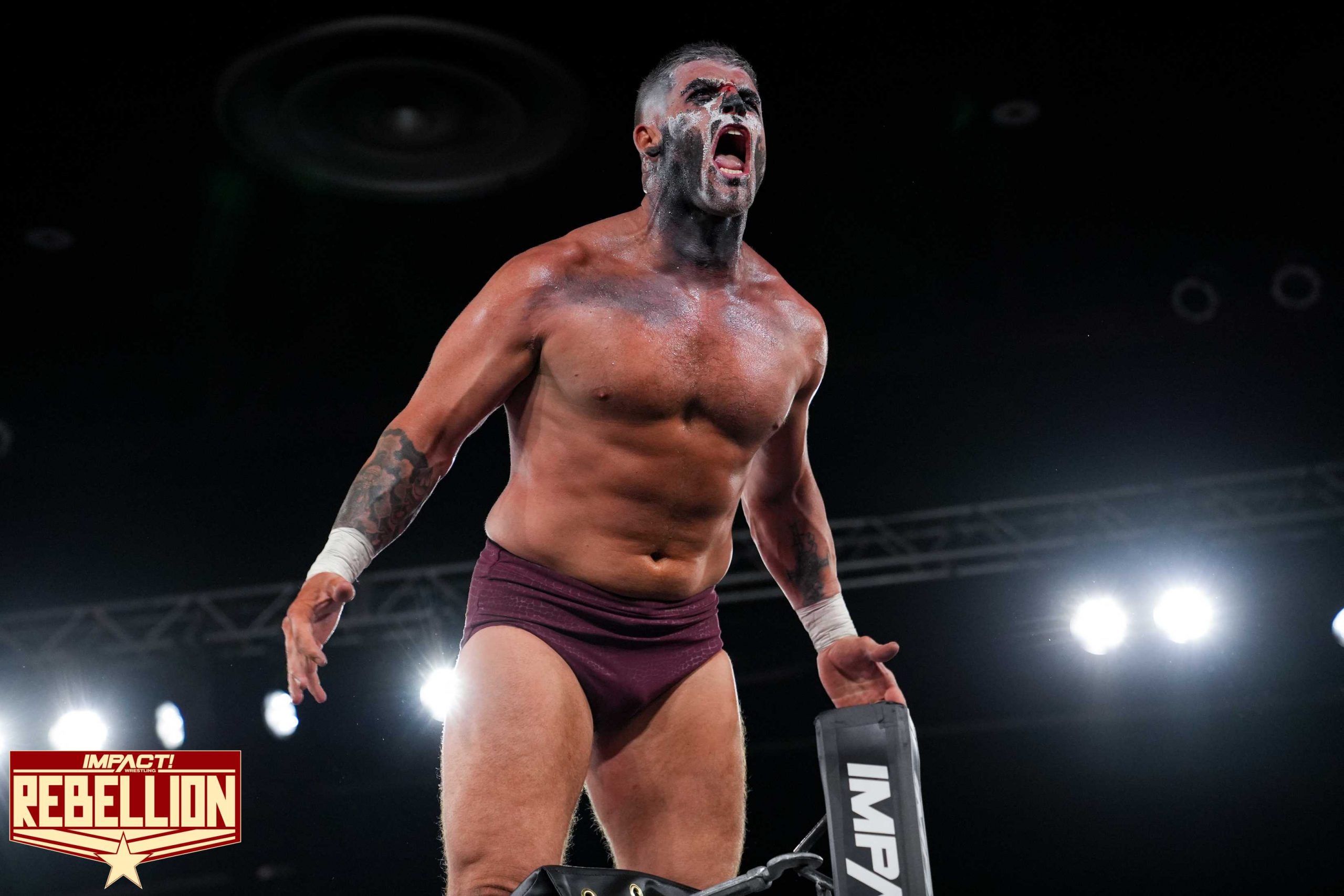 Steve Maclin is the current Impact World Champion following his defeat of Kushida after former champion, Josh Alexander was forced to relinquish due to injury. Now at the top of the mountain, Steve spoke to Wrestlesphere about his ascent.
Steve Maclin's wrestling persona sometimes feels inspired by the Marvel character The Punisher, a theme that suits him well. We asked Steve when did he start feeling a connection to the character?
He said, "I would say when the show came out with Jon Bernthal, it was a more realistic representation of what the veteran community is, as somebody who's served. A lot of my buddies and I felt like when that show came out, it was raw, it was rugged, it was true to someone who has the whole world against them, family taken from him and is just, okay I'm killing everyone."
"So, I tried to adapt that and take little bits and pieces, I also borrow from Captain America as-well. That's why I just love reading comics, I get to steal little bits from characters I relate to, whether it's movies or comic books in general, it's just finding those things that fit me and figuring out how I can adapt it and tell a story. It helps me build those layers."
Impact Wrestling, Alex Shelley & NXT
With Impact Wrestling being more accessible than ever thanks to their partnership with DAZN, AXS TV, the Impact Plus app, and the YouTube insiders service, we asked Steve how does it feel to know there are so many new eyes on the product?
Maclin said. "Yeah and it's only getting better. It's about getting as many eyes on the product as possible. My wife and I tune into YouTube to watch the episodes each week as we don't have AXS as part of our TV provider. Most people don't have cable nowadays, most people just stream everything on their phone so it's about getting those people to watch the show – which is the best wrestling show out there."
We then asked Steve, now that he's fought off PCO, his next challenger is Alex Shelley at Against All Odds, and if he has a healthy respect for the veteran? 
Maclin said, "The history Shelley and I have goes back to NXT, he came in as a guest coach and he and Kushida wrestled against myself and the Forgotten Sons, so it was cool to have Time Splitters there and to get to know him. He and (Chris) Sabin as the Motor City Machine Guns have molded this generation. Everyone, in some form, has taken from Chris Sabin or Alex Shelley, either individually or as a tag team."
He continued, "So to have this opportunity right now at Against All Odds? No, I'm not looking past that. I know who I'm getting into the ring with, he's a twenty-year-plus vet, one of the best in the world, maybe the best. He's not the Impact World Champion, that's something he's never been able to touch, because every time he gets an opportunity he drops the ball. So we'll find out if he can get it done, but I doubt it, because it's against me."
Rivalry with Josh Alexander
Maclin and the former Impact Champion Josh Alexander feel like two sides of the same coin, yet are polar opposites. We asked Steve if he feels like a clash between them both is inevitable once Alexander returns from injury?
"Yes, that was the original match I wanted at Rebellion. To beat Josh – the longest Impact World Champion in history – in his home town of Toronto? That would have been something else! But things happen in this business that we can't control, but that's only built up even more anticipation. I think I'm one of the best in the company and so does he, so I guess we'll find out who's the best at some time down the road. I think that's the match people are going to be talking about."
Be it Steve Maclin the man, or Steve Maclin the Impact Champion, and taking everything that's happened in his career into account, we asked Steve if he now feels vindicated – and if the bumps in the road were worth it? 
"Oh it's all worth it. Everything that's happened has led me to where I am today, the Impact World Champion. You might not realise it, or be a bit bitter at the time, but it's all worth it. It's fulfilling to know that I had to go through all that to get to where I am now. I had to learn those lessons, the lessons that got me to my wife, the house, the dogs."
"It helps me enjoy life, I get to travel the road with my wife, we're going to Australia later this month, it's just surreal. To be on top as the Impact World Champion makes me more appreciative. But now the work gets even harder as I have to put the company on my back and represent Impact Wrestling as well as I can. I want them to remember me and remember Impact Wrestling."
Family and Impact Wrestling as home
As Steve Maclin and Deonna Purrazzo both won the Impact World Championship and the Knockouts World Championship, on the same night, at Impact's Rebellion 2023 pay-per-view event, we asked how it feels to be Impact's new power couple?
Steve said, "My wife is the best. She's one of the best professional wrestlers in the world and I'm so proud of her because she puts every bit of effort into what she does. And she cares so much about what this craft is. It's the new age of the Virtuosa."
Finally, we asked Steve how he feels about Impact Wrestling as a home to him?
He said, "It's been awesome. It's been a place where I get to flourish and show who I am. Impact is a place where I don't need to hold back and don't get told no. If I do get told no then I ask why and I get an answer."
"It's gratifying to have the opportunities I've been given and to keep knocking it out of the park. It's a good home, and it's a good place to be a pro-wrestler, whether you're a man or a woman. In Impact, if you're picking up steam they'll run with it, and that's what's getting so many eyes on it. I'm happy to say that I'm from Impact Wrestling."
IMPACT Wrestling: Against All Odds will be live from the Expo Theater in Columbus. Friday, June 9th, 2023, the show will be available on YouTube as part of their Ultimate Insiders service.  
Watch: 
Listen: