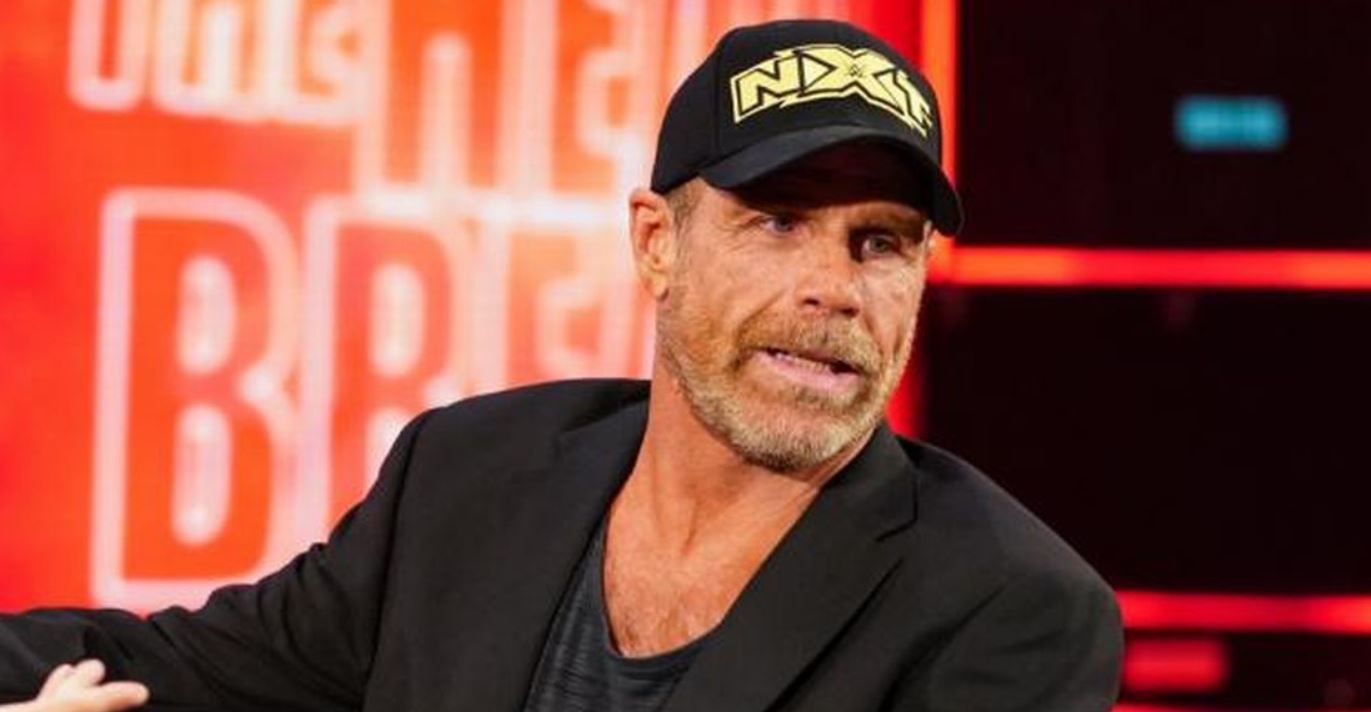 Wrestlsphere spoke to Shawn Michaels ahead if NXT Deadline, discussing his time as the head of WWE's golden brand.
In September 2019 'developmental' was a dirty word around certain quarters of Full Sail University in Orlando, Florida.
What was being created every Wednesday night by the superstars of NXT was not the work of the lesser-developed marquee names of tomorrow, but rather the most compelling weekly television under the WWE umbrella, played out by a selection of the world's most talented pro-wrestlers.
With a USA Network television deal in the bag and a major three-way Survivor Series feud with Raw and SmackDown in the pipeline, NXT was now brand number three, alongside what was happening on Monday and Tuesday nights.
Adam Cole was NXT Champion, Shayna Baszler was on the verge of being dethroned from her eventual 416 day reign as NXT Women's Champion by an emerging Rhea Ripley and the Undisputed Era were once again running roughshod over the black and gold brand's tag team division.
Come September 2021, however, and black and gold was no more. NXT was shifted back to Tuesday nights after 18 months of taking L's in the 'Wednesday Night Wars' up against AEW Dynamite. Widespread roster cuts and behind-the-scenes personnel changes had brought about a seismic shift in how this one-time 'third brand' was to be presented. This was NXT 2.0.
The Undisputed Era were no more and were instead All Elite. On-screen General Manager, backstage mentor and long term right hand man of Triple H, William Regal, was relieved of his duties by Vince McMahon. The likes of Ripley and Baszler were now establishing themselves on the main roster and suddenly, the influx of world class talent from around the world and the US independent circuit was being shunned in favour of Performance Center rookies. Welcome to developmental.
Bron Breakker, Von Wagner, The Creed Brothers, Tony D'Angelo and Lash Legend were thrust in front of live cameras on the USA Network, while directing operations from backstage was a responsibility that no longer fell at the feet of the artist formerly known as Hunter Hearst Helmsley. Instead, his fellow Degenerate brother-in-arms Shawn Michaels was running the show, while Trips recovered from life saving heart surgery.
It was a paradigm shift that left many fans unconvinced. The changes were too sweeping. The day-glo colour scheme of the revamped Performance Center too offensive on the eyes, like a '90s Nickelodeon cartoon brought to life. Suitably for such a renovation, there was an almost explicit mid '90s feel to the entire situation. The former 'Capitol Wrestling Center' as it had been redubbed during the Covid-19 pandemic, felt more akin to Center Stage in Atlanta, where WCW would host their weekly Saturday Night programme. There was even a Steiner on the show.
Over the last 24 months, NXT has traversed the most transformative period since its full time inception in 2012. This was once again a brand finding it's feet and developing it's own personality. It was now entrusted with creating new stars from scratch, rather than refining them from elsewhere within WWE's own specific parameters.
And so we arrive in the present day with the brand securing a new five-year TV rights deal with the CW Network, worth reportedly somewhere in the region of $25m-a-year (roughly double the size of their current deal with USA) and providing not only a proving ground for the raw energy of the new era's greenhorns but also a site of reinvention for those meandering around the Raw and SmackDown wilderness (Baron Corbin and Dominik Dijakovic are currently in the midst of revitalised runs down in Orlando) and a space for the main roster's Hall of Famers-in-waiting to lend their experience to their eventual successors (Becky Lynch's recent 42-day reign as NXT Women's Champion was one of the most memorable reigns in recent company history and helped cement Tiffany Stratton and new champ Lyra Valkyria as can't miss acts).
Of course, former NXT Commander-In-Chief/Proud Dad Triple H now helming the creative side of things for Raw and SmackDown rather than Vince McMahon helps enormously with talent trades between the Monday and Friday night crews and Orlando's finest. And, obviously, ensures NXT stars are booked with respect and prominence when they show up on the red and blue brands, as Dragon Lee and Carmelo Hayes' recent showings will attest.
But a lion's share of the plaudits belongs to the Heartbreak Kid. Shawn Michaels may have Sweet Chin Music'd his way through the '90s with a lost smile and an ego the size of his home state of Texas, but a quarter of a century later and the two-time WWE Hall of Famer is now one of pro-wrestling's most important bookers and a sports entertainment sensei for NXT's ever more youthful locker room.
"The biggest thing that he's told me is 'let it all come from your heart'," explains former NXT Champion Carmelo Hayes, when discussing Michaels' impact on his own career during an exclusive interview with Wrestlesphere over WrestleMania weekend. "He's told me in the build up (to Hayes' Stand and Deliver main event against Bron Breakker) there's going to be all the media and also all the build and anticipation, but when it's go time and we're in the ring and it's just me and Bron looking across at each other it needs to come from right here, so I've always got that in my mind. Just be in that moment and don't let all these things distract me."
"It's so crazy being able to work with him," comes the impassioned outpouring of enthusiasm from self-professed 'fangirl' and former NXT Women's Champion Roxanne Perez.
"He's given me so much great advice. Honestly I still fangirl every time I see him, which is like every day. I try to hide it as much as possible but I'm sure he knows."
For the 22-year-old Perez, who has already achieved so much in the business at such a young age, the 58-year-old Michaels' advice could be equally as paternal as it is professional.
"He's so awesome because he's so real with us and I love that about him. I'm so grateful that I get to experience everything that I get to experience. Shawn always reminds us not to worry about the next thing. He told me not to worry so much about trying to change or add, just live in the moment and your story will write itself for you and that's the cool part about being so young in WWE. The fans will get to grow up with me and I'm excited to see what's next."
And while 'Melo and Roxanne no doubt have championship-laden futures on the horizon, Alba Fyre and Isla Dawn have already experienced the thrust into the spotlight when they were entrusted with forming one half of a tag team title unification bout opposite then-WWE Women's Tag Team champions Ronda Rousey and Shayna Baszler.
The Scottish duo, who were drafted to SmackDown in June, may have been unsuccessful in unifying the straps, but are being teased towards a title shot against the current champs Chelsea Green and fellow Scot Piper Niven. It is a move which could kickstart their main roster careers, for which they are indebted to Michaels and his work ethic in ensuring his students are ready for that daunting leap forward.
"You can feel his passion coming through in everything he says and does," reveals Fyre, who originally wrestled under the NXT UK umbrella as Kay Lee Ray, "It pushes us to be the best that we can be, because he's Shawn Michaels, we all know everything he's done in the business."
"He invests so much in us and in NXT that we want to work hard for him," adds Dawn, who arrived in WWE also as part of the now defunct NXT UK brand, back in 2018, "We want to make him proud."
"Shawn's very good at trusting you," Fyre continues, "When he knows you can go and do the job that you need to do, he lets you get your input in, he lets you talk, I'll always be grateful for that. It's not just 'you're doing this'."
"Nothing's made to be high pressure, either," Dawn adds, "he knows high pressure, so he's not saying 'you need to do this, you need to do that'. He's just like 'you've got this'."
Where once upon a time Shawn Michaels was being handed a seemingly unscalable mountain to conquer – an NXT to cultivate minus the star power of the 2015-2019 era, newcomers to the industry to evolve on live national television and widespread releases to work around – the former WWE Champion has now planted his flag as a top class booker and teacher, in charge of a devoted locker room who are heading out to the squared circle every night to make him proud. Combine this with the fact his best friend is running the show on Monday and Friday nights, sending household names to Orlando when necessary and allowing the Showstopper's most exciting projects to flourish in front of weekly TV audiences in the millions and we may be looking at the second coming of the (black and) golden age of NXT over the next three-four years.
Just when it appeared that Shawn Michaels' legacy had already long been cemented, the Boy Toy goes and books a swerve in his latest chapter.
Featured Image Credit: WWE