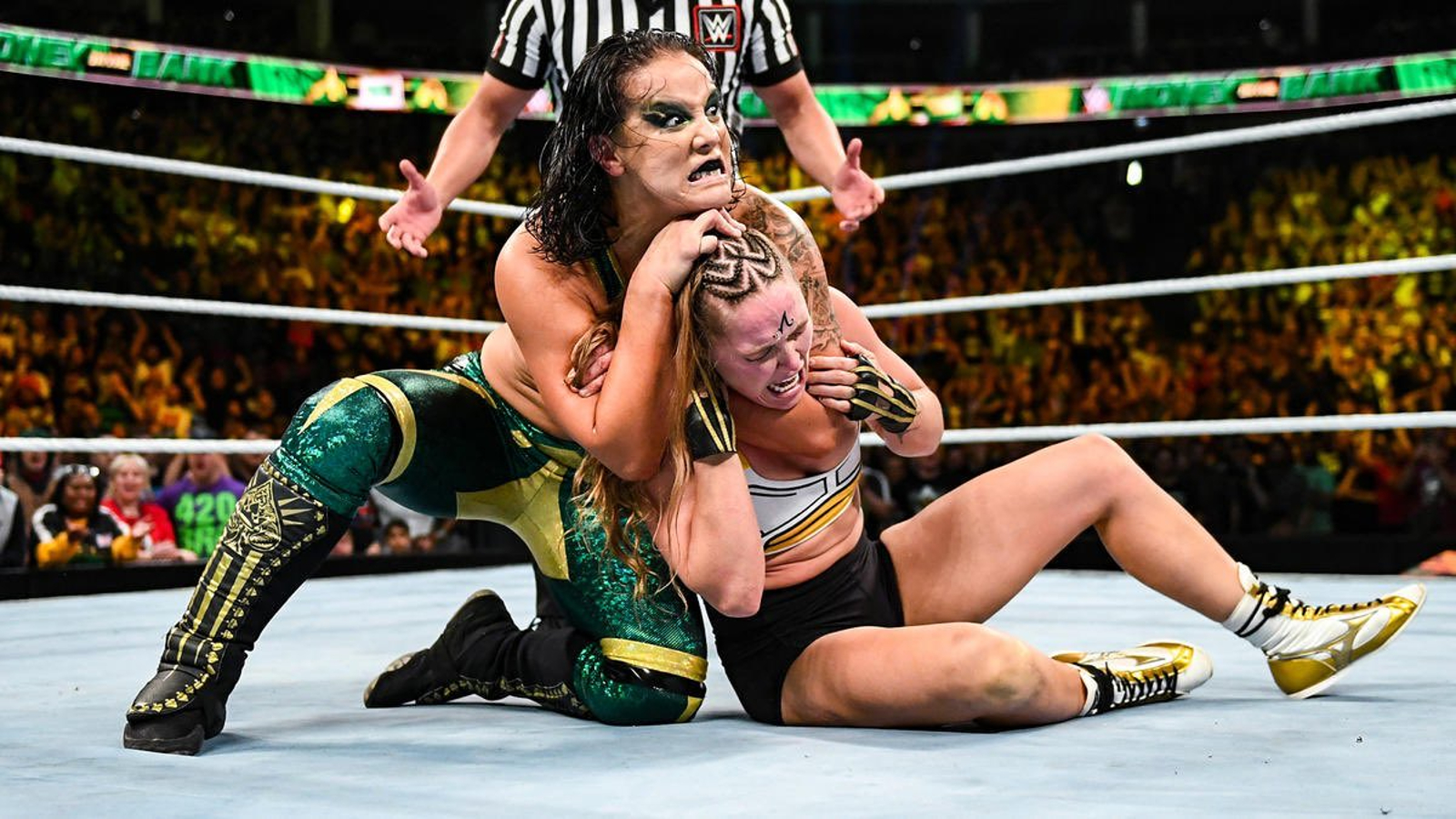 WWE Superstar Shayna Baszler spoke to Wrestlesphere about her relationship with Ronda Rousey mere hours before their tag team imploded at WWE Money in the Bank.
After being pushed too far by her tag team partner Ronda Rousey at WWE's Money in the Bank Premium Live Event, Shayna Baszler locked the former UFC Champion in a brutal choke hold during their match with Liv Morgan and Raquel Rodriguez, before abandoning her and storming out of the match. This led to the challengers defeating a vulnerable Ronda and becoming the new Undisputed Women's Tag Team Champions.
While some will see Shayna Baszler's actions as a betrayal, others will view her turning on Ronda as a noble act, with the submission expert finally emerging from Ronda's shadow and standing up to a bully. Like Ronda, Shayna is also a former MMA fighter and a clash between the two now seems inevitable.
However, before this moment at Money in the Bank in London, we spoke to Shayna about her relationship with Ronda, and what she told us made betrayal even more shocking. We started by asking Shayna about herself and Ronda winning the Women's Tag Team Championships and how this compares to her NXT Women's Championship reign. Women's Tag Team ChampionWomen's Tag Team Champion
Shayna told us: "Well I am the longest reigning NXT Women's Champion of all time combined days, I'm the longest Women's Tag Team Champion combined days, who would have thought? I'm a tag specialist now."
Shayna Baszler's legacy in WWE
We then asked Shayna if she ever thinks about her legacy in sports entertainment and mixed martial arts, she said: "It's so funny, I don't think I'll ever be satisfied, I always think this is just the beginning, but I thought that when I won the NXT title as well, so I think it's one of those things that I'll always think."
She went on to say: "I think most important is that I'm carrying on the legacy of my martial lineage with Billy Robinson and Josh and the old school way of wrestling. If you're prepared to work as hard as you can for longer than you think is fair, then things will come around, so keep doing it."
Surprisingly, Shayna gave no indication of dissatisfaction towards her relationship with Ronda, even showing pride at holding the championships alongside her long-time friend, ally and fellow former MMA turned wrestling star.
It will be interesting to hear Shayna's reasoning for her attack on Ronda and who comes out of this feud as the hero and who ends up being considered the villain. The London crowd cheered Shayna once she snapped and attacked Ronda, who will now likely be planning to settle the score with her old friend.
Check out the interview below!
Clear audio:
Watch:
WWE Money in the Bank is available to watch on demand on the WWE Network in the UK and on Peacock in the United States.